IDEMIA, market leader in the metal payment card technology, has partnered with IndusInd Bank to launch its first metal credit card – 'PIONEER Heritage' This card has best-in-class features and privileges across categories like travel, wellness, lifestyle, among others. The new metal credit card – offers exclusivity to wealth customers of IndusInd Bank by providing them with a superior payment experience powered with innovative technology.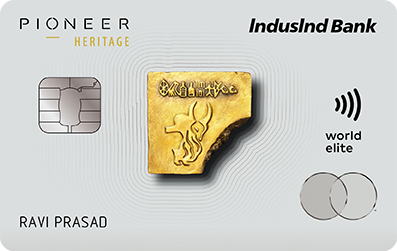 Payment cards are no longer a mere payment tool in India but also reflect the lifestyle of the card holder. Research shows that buying premium products makes 52% of global customers "feel good", and metal cards are a major differentiator for 58% of the card holders. For card holders, high-quality material, superior style, handcrafted design and artisanal effects are definitely an exclusivity quotient.
"IDEMIA is happy to design exclusive metal cards for IndusInd Bank customers with a promise of premium payment experience and added exclusivity. We are confident that the leading edge technology and the best of digital payment solutions from IDEMIA will help IndusInd Bank in its growth trajectory" said Amit Kakatikar, Regional Director & Head of Financial Institutions BU, IDEMIA.
IndusInd Bank, which commenced operations in 1994, caters to the needs of both consumer and corporate clientele. As on September 30, 2020, IndusInd Bank has 1910 Branches/ Banking Outlet and 2785 ATMs across India. IndusInd Bank launched 'PIONEER Banking', its wealth management platform in January 2020, which caters to the high net worth segment of customers.