Infinix smartphone brand from TRANSSION group has forayed intwo SMART TV segment and launched today INFINIX X1 ANDRIOD smart TVs in 32 inch and 42-inch variants. These TUV Rheinland certified devices are claimed to have the safest viewing experience by controlling the blue light wavelengths emitted during watching TV. These TVs will go on sale on Flipkart on 18th December at INR 11, 999 (32-inch) and INR 19, 999 (43-inch) respectively.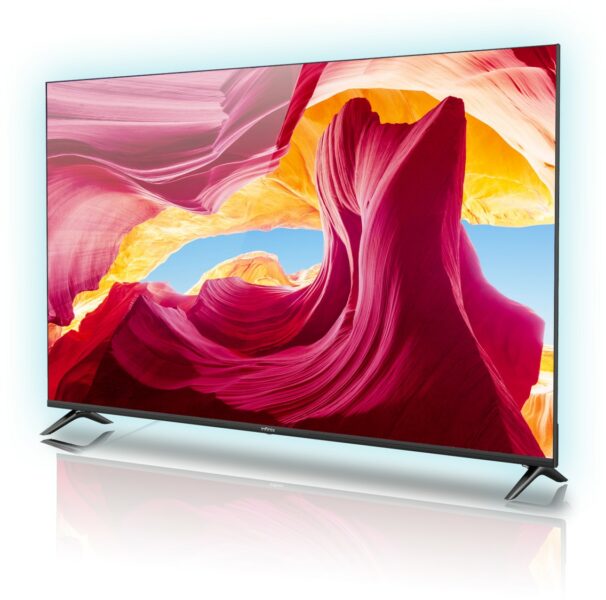 Infinix X1 series TV comes with narrow bezel and provides a higher screen-to-body ratio for an immersive viewing experience. The Infinix X1 series of TV come with sleek design and their EPIC 2.0 Image Engine uses algorithms to enhance the overall picture quality and improves the brightness, color, contrast, and clarity to deliver a vivid picture quality as claimed by Infinix. Its display supports HDR 10 for providing natural wider range of colours and depth in contrast between lighter and dark shades. The display comes with wider viewing angle of 178 degree. Infinix TV also comes with blue light reduction technology, which reduces harmful blue rays emitted from TV that can cause serious damage to your eyes over the period. Infinix's Eye-Care Technology solution has been tested and approved by TUV Rhineland
Infinix X1 series TV comes with in-built Box speakers for superior sound experience with higher base effect (24W on 43" and 20W on 32" TV). These speakers with Dolby Audio are claimed to deliver a rich, clear, powerful surround sound experience.
Both INFINIX X1 series ANDROID smart TVs run on Mediatek quad core processor with 1GB of RAM and 8 GB of ROM. INFINIX Smart TVs come with built-in Chromecast for seamless connectivity to your favourite video apps such as Netflix, Amazon Prime, YouTube, etc. and Google assistant to have a personalised and hands-free experience.
Commenting on the launch, Mr. Anish Kapoor, CEO – Infinix India, said, "With the significant increase in screen viewing time during the Covid-19 period it has been Infinix's prerogative to improve and address this issue through technology. While we had planned to introduce our latest category of Infinix Smart TVs a few months back, the R&D teams at Infinix have been clocking overtime to ensure that it is the most unique offering in the Indian market.
At Infinix we always challenge ourselves to achieve perfection while maintaining our FIST (First in Segment Technology) DNA in each product and category that we introduce. While one saw exciting smartphones and subsequently a new audio brand SNOKOR being introduced by Infinix, it was imperative to make an imprint in this unorganised space. We want to make an impression with the introduction of our newly launched SMARTTV series called X1 while maintaining our core value proposition of giving the best value for the price."
Key Product Features:
| | |
| --- | --- |
| 43-INCH | 32-INCH |
| CERTIFIED ANDROID TV | CERTIFIED ANDROID TV |
| GOOGLE ASSISTANT / CHROMECAST BUILT-IN | GOOGLE ASSISTANT / CHROMECAST BUILT-IN |
| BEZEL-LESS FRAME | BEZEL-LESS FRAME |
| 43" FHD | 32" HD |
| EPIC 2.0 PICTURE ENGINE | EPIC 2.0 PICTURE ENGINE |
| UPTO 400NITS BRIGHTNESS | HDR 10 | HLG | UPTO 400NITS BRIGHTNESS | HDR 10 | HLG |
| BOX SPEAKER FOR SUPERIOR SOUND | BOX SPEAKER FOR SUPERIOR SOUND |
| 24W BOX SPEAKERS | DOLBY AUDIO | 20W BOX SPEAKERS | DOLBY AUDIO |
| ACCESS TO UNLIMITED CONTENT | ACCESS TO UNLIMITED CONTENT |
| GOOGLE PLAY STORE | NETFLIX | PRIME VIDEO | YOUTUBE | GOOGLE PLAY STORE | NETFLIX | PRIME VIDEO | YOUTUBE |
| MEDIATEK LATEST TV CHIPSET | MEDIATEK LATEST TV CHIPSET |
| 64 BIT QUAD CORE | 1GB RAM | 8GB ROM | 64 BIT QUAD CORE | 1GB RAM | 8GB ROM |
| CONNECTIVITY | CONNECTIVITY |
| 3HDMI | 2USB | BLUETOOTH 5.0 | WI-FI | BT REMOTE | 2HDMI | 1USB | BLUETOOTH 5.0 | WI-FI | IR REMOTE |