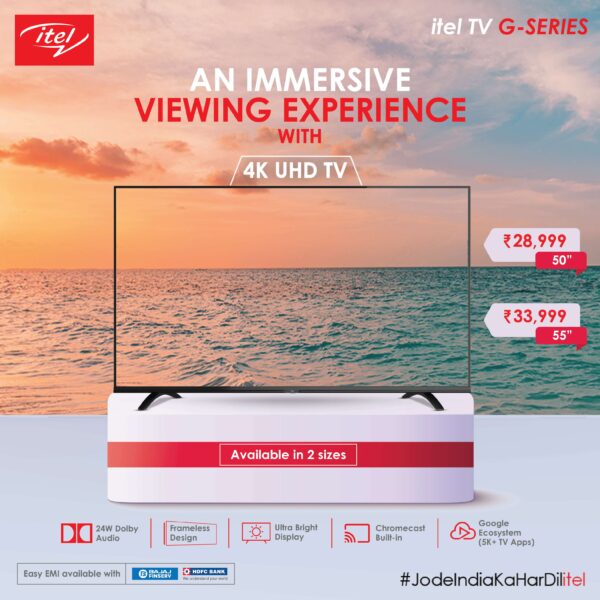 itel has announced the launch of 4K ultra HD G-series of smart televisions – G4366, G5066 and G5566 models, available in 43, 50 and 55 inch sizes respectively. These TVs run on Android 10 operating system.
The 4k ultra HD G series have a frameless design and are packed with 24 Watt box speakers with Dolby Audio along with ultra-bright display offering brightness up to 350 nits.
The G4366, G5066 and G5566 models are available at INR 21,999, INR 28,999 and INR 33,999 respectively. itel has also launched two more Smart Android Televisions in the G-series powered by 24W Box speakers with Dolby audio. The G3265 and G4365 models come with Android 11 which are priced at INR 10,999 and INR 18,999 respectively.
The G series televisions come with built-in Play Store, Bluetooth 5.0, and built-in Chromecast. These TVs are equipped with a Google Assistant button.
The 4K Ultra HD models of G series TVs come loaded with the Android 10 operating system while the other variants are equipped with Android 11. The 4K G series TV range feature an ARM A53 1.5GHz Quad-core processor and a smart remote control with built-in Google assistance.
Specifications of (4K Ultra HD G Series)
Model
G4366
G5066
G5566
OS
Android 10
Android 10
Android 10
Memory
2GB+8GB
2GB+8GB
2GB+8GB
Processor
CPU-ARM A53 1.5GHz Quad core, GPU-G52MC1
CPU-ARM A53 1.5GHz Quad core, GPU-G52MC1
CPU-ARM A53 1.5GHz Quad core, GPU-G52MC1
Connectivity
Wi-Fi, Bluetooth, Chromecast, Tuner-1, HDMI-3, USB-2, AV IN-1, Optical-1, RJ45-1
Wi-Fi, Bluetooth, Chromecast, Tuner-1, HDMI-3, USB-2, AV IN-2, Optical-1, RJ45-1
Wi-Fi, Bluetooth, Chromecast, Tuner-1, HDMI-3, USB-2, AV IN-2, Optical-1, RJ45-1
Power Requirement
AC 100?240V, 50/60Hz
AC 100?240V, 50/60Hz
AC 100?240V, 50/60Hz
Power Consumption
100W/< 0.5W(Standby)
120W/< 0.5W(Standby)
120W/< 0.5W(Standby)
Display
Contrast Ratio- 1300:1, Viewing Angle- 178º/178º
Contrast Ratio- 5000:1, Viewing Angle- 178º/178º
Contrast Ratio- 1300:1, Viewing Angle- 178º/178º
Response Time
8ms
8.0ms
8.0ms
Refresh Rate
60Hz
60Hz
60Hz
Audio
2*12W Box Speakers, Dolby Audio, Built-in multi-scenario sound effects
2*12W Box Speakers, Dolby Audio, Built-in multi-scenario sound effects
2*12W Box Speakers, Dolby Audio, Built-in multi-scenario sound effects
TV Dimension
965x85x570mm
1120x90x645mm
1225x90x710mm
Net Weight
5.9kg
9.2kg
11.2kg
Accessories
Voice Remote Control with Batteries, Base Stand with Screws, Wall Mount Kit, AV Cable
Voice Remote Control with Batteries, Base Stand with Screws, Wall Mount Kit, AV Cable
Voice Remote Control with Batteries, Base Stand with Screws, Wall Mount Kit, AV Cable
Specifications (Smart Android G Series)
Model
G3265
G4365
OS
Android 11
Android 11
Memory
1GB+8GB
1GB+8GB
Processor
CPU: ARM A55 1.5GHz Quad Core, GPU: Mali 470MP3
CPU: ARM A55 1.5GHz Quad Core, GPU: Mali 470MP3
Connectivity
Wi-Fi, Bluetooth, Chromecast, Tuner-1, HDMI-2, USB-2, AV IN-1, Optical-1, RJ45-1
Wi-Fi, Bluetooth, Chromecast, Tuner-1, HDMI-2, USB-2, AV IN-2, Optical-1, RJ45-1
Power Requirement
AC 100?240V, 50/60Hz
AC 100?240V, 50/60Hz
Power Consumption
60W/< 0.5W(Standby)
75W/< 0.5W(Standby)
Display
Contrast Ratio- 3000:1, Viewing Angle- 178º/178º
Contrast Ratio- 1200:1, Viewing Angle- 178º/178º
Response Time
8.5ms
6.0ms
Refresh Rate
60Hz
60Hz
Audio
2*12W Stereo Speakers, Dolby Audio, Built-in multi-scenario sound effects
2*12W Box Speakers, Dolby Audio, Built-in multi-scenario sound effects
TV Dimension
720x85x430mm
965x85x570mm
Net Weight
3.6kg
5.9kg
Accessories
Smart Remote Control with Batteries, Base Stand, Wall Mount Kit
Smart Remote Control with Batteries, Base Stand, Wall Mount Kit