itel has recently announced the launch of its latest addition to the wearable portfolio – the itel smartwatch 2ES. It supports Bluetooth v5.3 and users can make calls through the watch's built-in microphone and speaker.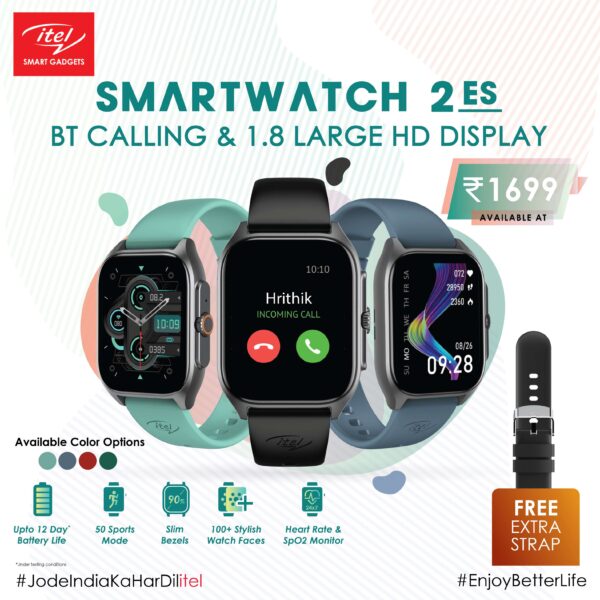 The itel smartwatch 2ES includes an AI voice assistant that allows users to make calls, send messages and control other smart gadgets using voice commands. In addition to the Call Anytime, Anywhere feature, the itel Smartwatch 2ES also includes a heart rate monitor and alert, as well as a blood oxygen monitor, providing users with real-time health data. The smartwatch is also integrated with 50 sports modes, allowing users to track their workouts and monitor their progress. The itel Smartwatch 2ES also offers music and camera control, as well as smart notifications that allow users to stay up to date with their messages and social media notifications. The smartwatch is IP68 water resistant and comes with a personalized menu that can be customized to suit the user's preferences and needs.
The itel Smartwatch 2ES comes with a slim bezel and a 1.8-inch IPS HD display having 90% screen-to-body ratio and a brightness of up to 500nits. It is also designed for longer usage, with a battery that can last for 12 days with just two hours of charging. The 250 mAh battery is accompanied by a magnetic charger and an extra free strap to compliment a trendy dial design.
It is also designed to prioritize the health of the individual wearing it as it can measure oxygen saturation (SpO2), heart rate and track the user's sleep patterns.
This smartwatch comes in City Blue, Red, Green and Water Green colors and is priced at INR 1699.