itel has launched today its Smartwatch 2 Ultra with powerful battery. itel Smartwatch 2 Ultra is packed with 600mAh battery, which claims to provide 30 days of standby time. It features 2.0-inch IPS display for clear visuals. This smartwatch comes with advanced Bluetooth support for seamless connectivity, clear calls with inbuilt mic & speaker, and convenient contacts sync & dial pad.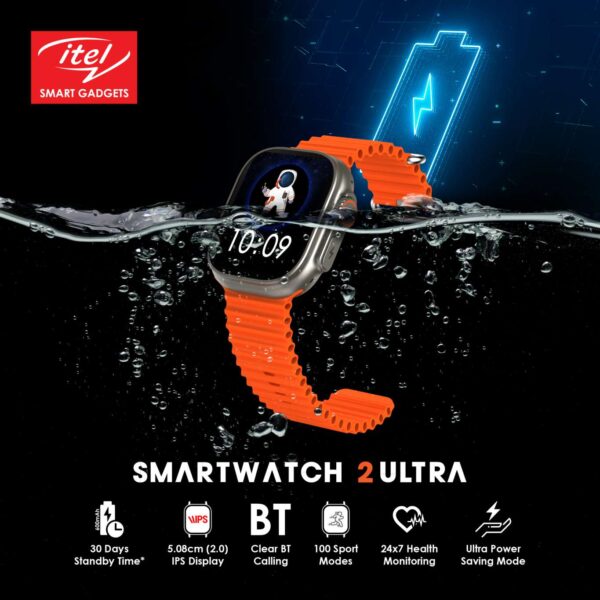 This smartwatch has health features of 24/7 monitoring of heart rate, SpO2, and sleep. It has over 100 sport modes for athletes and health-conscious individuals.
This watch provides 100+ watch faces to match your style. It has Ultra Power Mode for critical situations, ensuring uninterrupted connectivity with a single tap or dedicated key.
The Smartwatch 2 Ultra has sleek and trendy design. The Smartwatch 2 Ultra will be available at authorized itel retailers and online stores at INR 2099.
Speaking about the launch, Arijeet Talapatra, CEO, TRANSSION India, said, "In the dynamic landscape of today's world, the GenZ seeks innovation and style in a single, all-encompassing device. Embracing this trend, itel proudly unveils the Smartwatch 2 Ultra, a fusion of cutting-edge technology and unparalleled trendiness in wearable devices.
Cognizant of the demands of young consumers, our Smartwatch 2 Ultra is meticulously crafted to epitomize style and trend, capturing the hearts of the fashion-conscious youth. Boasting a generous 2.0-inch IPS display, this timepiece empowers users to boldly express their personal style while ensuring seamless connectivity, all sustained by an enduring 600 mAh powerhouse of a battery that keeps you connected for weeks on end. It also caters to the health and fitness enthusiasts with round-the-clock health monitoring features, including heart rate monitoring, sleep tracking, and activity tracking, this smartwatch empowers users to take charge of their well-being and lead a healthier lifestyle."