Kent RO Systems, the leading RO Purifier brand of India has ventured into Energy Saving Fans by launching BLDC Ceiling Fans under the brand name Kühl Stylish Fans. These Fans were launched at an event in New Delhi in the presence of Sri Sri Ravi Shankar Ji and Film Actress and Brand Ambassador of Kent, Ms Hema Malini.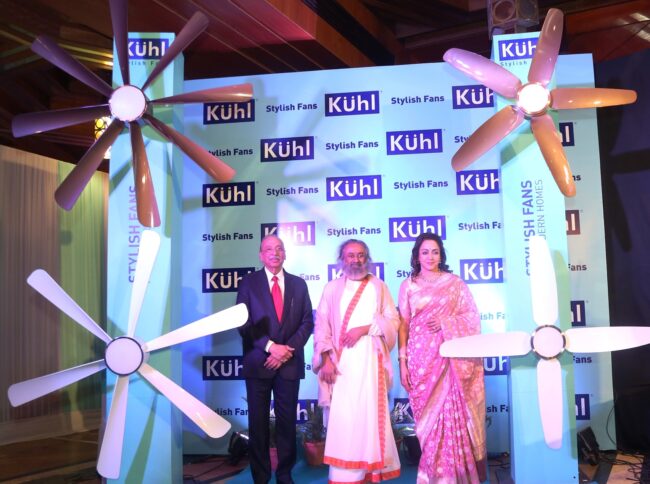 The existing fan comes with a traditional induction-based motor that is outdated and consumes very high electricity. Even the energy saved through BLDC fans could help India to set up Forty Power Plants of 500 Megawatt each. According to Kent, these fans can collectively save up to 2 Lakhs Crore worth of electricity bills if all the 120-crore household fans converted to BLDC technology as these fans save at least 65% energy which speaks volumes about energy saving capabilities of newly launched fans.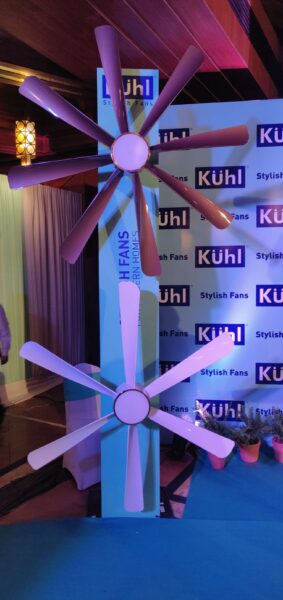 According to Kent, Induction fans, which are currently being used, guzzles 80 W of power. More than 100 crore induction fans are wasting millions of units. Addressing this issue, Kent has launched Kühl Fans to cut down on energy waste. Built using BLDC technology, these fans will be a boon for the ceiling fan industry. The biggest USP of the elegantly and aesthetically crafted Kühl range of fans is that they have low power consumption.
Unlike normal induction motor-based fans, BLDC fans come with a brushless electric DC motor that uses permanent magnets. The use of BLDC motors eliminates the friction, motor noise, and sparks that usually occur in the case of normal fans due to the continuous contact of brushes with commutators. Since wear and tear are eliminated, BLDC motors have a longer service life compared to typical induction motors as claimed by Kent.
Kühl BLDC fans also incorporate other interesting features. The Luxus, Brise and Platin Series of Fans are WiFi and IoT enabled and can be controlled via Smartphone – Android and iPhone, Alexa, or voice. They come with a reverse function that efficiently circulates warm air around the room. These Fans are available in 3,4,5,6 and 8 blades. These fans are designed to provide more airflow while producing the least amount of noise when compared to older technology and noisy fans. All the newly launched Fans come with 5 Star Power Saving Rating.
Commenting on the launch of Kühl Stylish Fans, Dr Mahesh Gupta, CMD, Kent RO Systems Limited said, "We are proud to launch Kühl Stylish Fans by KENT, which is in line with the brand philosophy that focuses on energy, environment, and technology. While India has made substantial progress in promoting energy-efficient lights, ACs, and refrigerators, However, out of the 90 percent of households that use ceiling fans, only 3 percent currently use energy-efficient fans."
"A step towards making India self-reliant, all these Fans are in-house designed by the R&D team of Kent and are 100 % Made in India" added Dr Gupta.