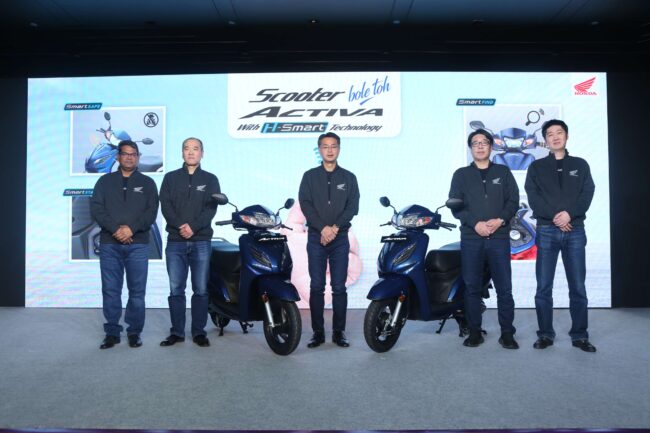 At an event in New Delhi, Honda Motorcycle & Scooter today unveiled smarter and advanced Activa 2023 scooter. The USP of this scooter is that it comes with Honda Smart Key which incorporates following features:
Smart Find: Answer back system in smart key assists in easily locating the vehicle. When the answer back button is pressed on the Honda SMART Key, all 4 winkers will blink twice to locate the scooter.
Smart Unlock: The Smart key System is a newer technology feature that makes it possible to lock and unlock the vehicle without using a physical key. In case the system detects no activity for 20 seconds after activation, the scooter automatically gets deactivated.
Smart Start: If the smart key is within the range of 2 meters of the vehicle, then the rider can smoothly start the vehicle by rotating the knob on the Loc Mod to ignition position and push the start button without even taking out the key.
Smart Safe: Activa 2023 comes equipped with Mapped Smart ECU which acts as a security device by electronically matching (ID) between the ECU and SMART Key, therefore preventing vehicle theft. The smart key has an immobilizer system which prevents a non-registered key from starting the engine. Without secure connection with Smart Key, Immobilizer System is not activated.
Engine Start/Stop Switch: The two-way functioning switch can be used to start the engine when pressed downwards and acts as an engine kill switch when pressed upward.
It also comes equipped with a unique Double Lid Fuel Opening System for accessing the 18L under seat storage space offering maximum convenience to the rider and has Lock Mod (5 in 1 lock) ensuring maximum convenience and reliability to the rider.
This scooter has large floor space for riding comfortt for long rides along with increased luggage carrying capacity. Alternatively, Long Wheelbase ensures better ride quality on unpleasant and bad roads with good stability and balance. With constant illumination of DC LED headlamp makes riding over rough roads & low speeds during night more convenient. Passing Switch provides the convenience of controlling high beam/low beam & passing signal from one single switch.
Honda Activa Smart has the new Alloy Wheels which elevate the style of Activa 2023. Front design with edgy cuts complements with chrome elements and attractive head lamp uplifts the style statement. Eye catchy silver grabrail and exquisitely designed Rear tail lamp with side winkers accentuates the overall design of the scooter.
All around full metal body fulfills the promise of reliability and durability. It comes with the Combi-Brake System (CBS) with Equalizer and 3-step adjustable rear suspension. The 12-inch Front Wheel inspires rider confidence and leads to better ride quality. Telescopic Suspension provides confident & smoother ride with class leading ground clearance.
The Activa 2023 is powered by Honda's trusted 110cc PGM-FI, boosted by Enhanced Smart Power (eSP) with following features:
Unique Honda ACG Starter: It starts the engine jolt free via the same AC generator used to generate current and charge the battery while riding. This eliminates the need for a conventional starter motor, thus, there are no gear meshing noises.
Two mechanical features lead to engine start with less effort – the first being efficient utilization of decompression with slightly opened exhaust valves (at the beginning of compression stroke) followed by the Swing Back feature which rotates the engine in a slightly opposite direction, which allows the piston to take a 'running start', making it easier to start the engine with a small amount of power.
The Start Solenoid, acting as an automatic choke system ensures rich air fuel mixture and provides the convenience of one time start at any point of time.
Programmed Fuel Injection (PGM-FI): It injects the right amount of fuel in cylinder based on specific engine data and constant feedback from the 5 intelligent sensors. It results in smooth and linear power output throughout.
Tumble Flow: Honda developed the world's first tumble flow technology through integrated die-casting process. The enhanced Smart Tumble Technology (eSTT) produces tumble flow by optimizing inlet port shape and using reverse flow phenomenon, without adding additional components leading to combustion improvisation.
Friction Reduction: Offset Cylinder, compact weight crankshaft & optimized piston reduces overall engine friction. Optimized weight results in improved fuel efficiency.
New Activa 2023 comes with Fuel Efficient Tyres which are specially developed by Honda with a new tyre compound technology. It reduces rolling resistance by 15-20% while maintaining the road grip leading to enhanced fuel efficiency.
Price, variants & colours
Activa 2023 will be available in three variants (Standard, Deluxe & Smart) and 6 colour options (Pearl Siren Blue NEW, Decent Blue Metallic, Rebel Red Metallic, Black, Pearl Precious White & Matte Axis Grey Metallic).
2023 Activa variants & prices
Variant
Standard
Deluxe
Smart
Price (ex-showroom, Delhi)
Rs. 74,536
Rs. 77,036
Rs. 80,537