Lectrix EV was awarded the prestigious 'Emerging EV Company of the Year' at the India EV Awards 2023, presented by Franchise India. The India EV Awards, organized by Franchise India, serve as a benchmark for excellence in the Electric Vehicle (EV) industry while fostering conversations about its future.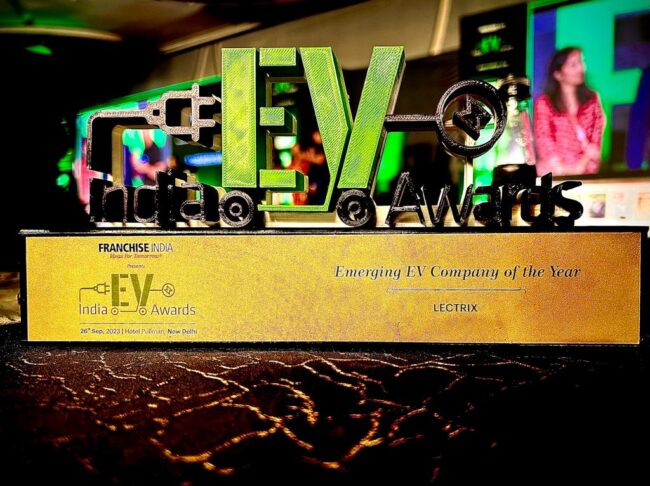 K Vijaya Kumar, MD & CEO of Lectrix EV shared, "We are honored to receive the 'Emerging EV Company of the Year' award at the India EV Awards 2023. This recognition is a testament to our unwavering dedication to advancing electric mobility in India. I congratulate the entire team at Lectrix EV as well. Our collaborative dedication, innovation, and commitment to sustainability have been instrumental in propelling Lectrix EV to this remarkable milestone. We are committed to leading the charge toward sustainable transportation solutions and delivering high-quality, affordable electric two-wheelers to our customers."
The 'Emerging EV Company of the Year' award highlights Lectrix EV's remarkable journey in the electric vehicle sector. Launched in 2020, Lectrix EV is driven by a commitment to provide consumers with reliable and advanced electric two-wheelers. With an initial investment of Rs 300 crore and a state-of-the-art production facility boasting an annual capacity of 1.5 lakh EVs, Lectrix EV has positioned itself as a frontrunner in the EV market.
Lectrix EV's LXS G 2.0 model launch witnessed a resounding success, garnering an impressive 12,000 bookings, a testament to the market's reception of their technologically advanced offerings.
Lectrix EV winning the "Emerging EV Company of the Year" award can also be attributed to a remarkable set of accomplishments, including introduction of the 'Test Ride @ Home' service, ensuring widespread accessibility and convenience to potential customers. Within a short period, Lectrix EV expanded its presence to a staggering 120 locations, further enhancing its reach and accessibility.
What sets Lectrix EV apart is their unwavering commitment to customer satisfaction, evidenced by the provision of 4-hour service support at customers' doorsteps and 24×7 Roadside Assistance accessible via their user-friendly app. The company has also earned the trust of customers and regulators alike by obtaining over 120 government certifications and investing significantly in research and development, with three cutting-edge R&D centers and the rigorous testing of vehicles over a remarkable 4 lakh kilometers.