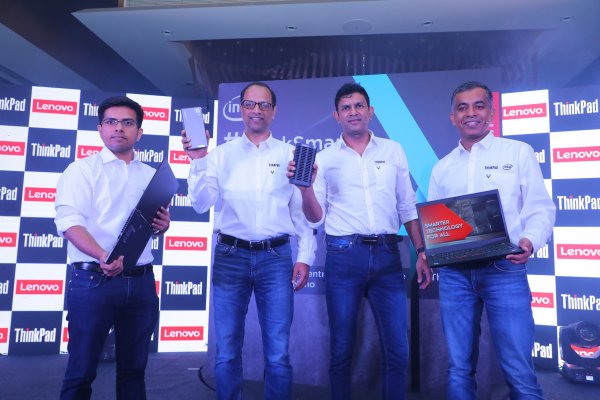 At an event in New Delhi, Lenovo today launched the new generation of ThinkPad and ThinkCentre PCs and announced its foray into commercial IoT and security solutions.
Lenovo's newly launched smarter enterprise PC portfolio includes ThinkPad T490 and X390, ThinkCentre Nano and Nano IoT, ThinkPad P43s and ThinkPad P1 Gen 2 mobile workstations. Lenovo also showcased the ThinkVision 43.3-inch P44w ultra-wide dual-display monitor and ThinkSmart Hub 500, a smarter conferencing solution.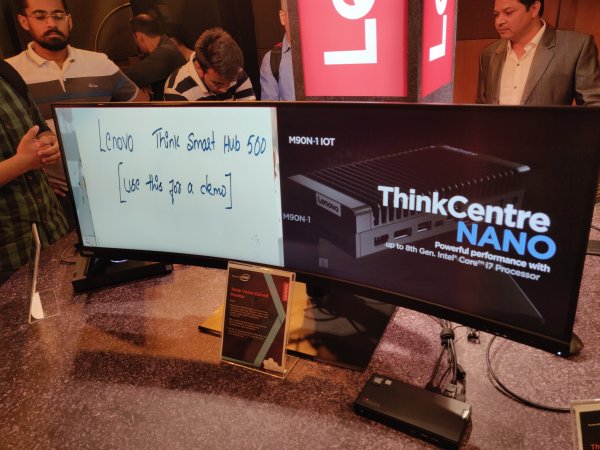 Under solutions, Lenovo announced ThinkShield 2.0, a 360 degree security platform intended to secure devices through the entire product life cycle, right from the manufacturing and supply chain, ensuring that devices entering the enterprise segment aren't infected or compromised before they are even turned on. It also announced ThinkPad PrivacyGuard for the new range of ThinkPad laptops, a unique software feature which protects the end users screen from prying eyes.
ThinkCentre Nano & Nano IoT- World's most compact commercial desktop series 
The ThinkCentre M90n is the most compact commercial desktop series in the world and can be used in dense call centers or in environments where space is constrained. The ThinkCentre M90n-1 Nano can fit virtually anywhere – behind the monitor, under a table, or on a bookshelf, offering a clutter-free shared-desk work environment. ThinkCentre Nano can be conveniently powered by a compatible USB Type-C monitor or Type-C dock, thereby providing rich I/O possibilities to meet your every business need.
Lenovo ThinkCentre M90n-1 Nano IoT has a broader thermal range (0-50 °C) and is designed for higher vibration and thermal environments like manufacturing. As a secure IoT Gateway, the ThinkCentre Nano IoT is designed to provide processing and security for the IoT devices you have in your environment that demand real-time responsiveness at the edge. The Nano IoT increases responsiveness and reliability by enabling the rapid relay of information between connected IoT peripherals, sensors and devices, even in harsher commercial environments. Customers can drive further expansion of additional legacy ports and peripherals with the expansion I/O Box to build out to your edge device needs. The suite of IoT offerings includes but not limited to, smart office surveillance and access controls using facial recognition, warehousing automation and smarter retail using computer vision.
Lenovo ThinkPad T490 Laptop series
Lenovo ThinkPad T490 is powered by i7 8th generation Intel Core processors, NVIDIA graphics with rich audio and display features. It has a premium, lightweight design and 22% thinner bezel.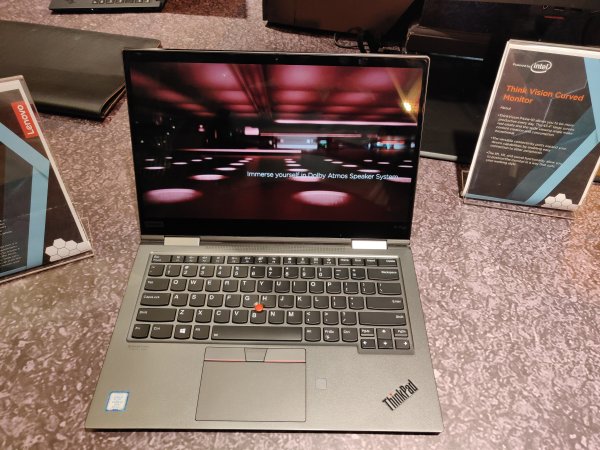 The laptop is just 17.9mm thin and weight starting 1.46 kg, making it extremely portable. It comes with an impressive display selection, including the stunning 500 nit, WQHD Dolby Vision panel, or a new, brighter 400 nit FHD display. For a great audio experience, Lenovo ThinkPad T490 features Dolby Audio Premium, featuring two up-firing speakers and dual far-field microphones for improved conferencing audio. The ThinkPad 490 laptops come with the option of Lenovo's proprietary Security solution- ThinkPad PrivacyGuard which protects the end users screen from prying eyes, with just a touch of a button.
ThinkPad P43s and ThinkPad P1 (Gen 2)
Lenovo ThinkPad P43s is amongst the smallest and lightest portable workstations and comes with a WQHD 2560 x 1440 500-niy display that supports 100% Adobe color gamut and Dolby Vision HDR technology. It supports upto 2GB DDR5 NVIDIA Quadro P520
Lenovo ThinkPad P1 is supercharged with Intel Xeon processors and supports 4GB NVIDIA Quadro P1000 discrete graphics to support Client AI.
ThinkSmart Hub 500
The ThinkSmart Hub 500 is an all-in-one purpose built device that simplifies meetings by making meetings start with a single click without the usual connection and sharing hassles. It reduces clutter, consolidates audio and video conferencing, VOIP and PSTN phones into a single unit and eliminates the need for separate speakers and phones for meeting rooms.
ThinkShield security solutions
ThinkShield is a fully customizable suite of security related services, software and hardware capabilities that protect the full lifecycle of commercial devices, from development to disposal. The ThinkShield portfolio is designed to provide greater security across all Lenovo enterprise devices, data centers and emerging solutions. It has been further enriched with new capabilities like a Self-healing BIOS and ThinkShield engine. In partnership with Coronet, Lenovo ThinkShield provides Wi-Fi security, preventing users from accessing insecure networks.
ThinkPad PrivacyGuard
The new range of ThinkPad laptops comes with Lenovo's ThinkPad PrivacyGuard which protects the end users screen from prying eyes. ThinkPad Privacy Alert is a unique software feature that warns users if anyone is looking at their screen, and if so, it will automatically turn on Privacy Guard. With Lenovo's ThinkPad PrivacyGuard, users need not worry about physical privacy guard film or adhesive connectors. Hence, to prevent someone from trying to sneak a peek at the laptop screen while you are working on a confidential excel sheet or presentation, the user can activate PrivacyGuard on the ThinkPad that can dim the display with the touch of a button, making it extremely difficult for anyone to view it from the side. The related Privacy Alert works in conjunction with the PrivacyGuard and the ThinkPad's IR depth camera, and can sound an alert if it "sees" anyone looking over the user's shoulder.