LG has launched a new product line as a part of its B2B segment including 130 All-in-One LED screens, Transparent OLED, Interactive Digital Boards and New Outdoor Display.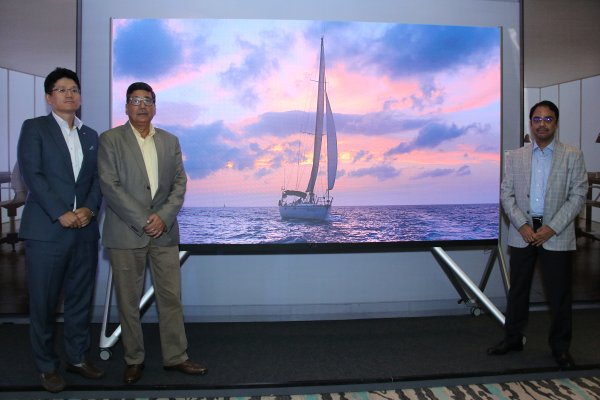 The LG 130 All-in-one LED Screen features a 130-large screen with no seam or bezel. Its large size and superb picture quality supported by HDR10 presents accurate and vivid colors to viewers, while fully captivating them with Surface Sound driven by 162W 36 embedded sound units. The LED Screens can be easily installed in various setups according to business needs – a wall mount for sleek interior or a stand set up to keep it in front of the window. It also allows the user to easily access the settings, such as picture mode, volume etc. using a remote control instead of needing to connect to a PC. The LED screen has been certified Crestron Connected for a higher level of compatibility with professional AV controls.
The TR3BF series of UHD screens has wide view angle (86/75/65) and Interactive Digital Board provides the best picture quality regardless of content type and viewer position. It supports up to 20 points multi-touch, and 2 stylus pens writing and presenting 2 colors at the same time. The extended functionality of TR3BF makes education for students more interesting. The in-built Airclass supports connection upto a maximum of 30 students and also provides various tools such as Vote, respond and project texts with any mobile device in the same network. It supports devices based on Android, Mac, Windows and IOS for screen sharing.
The 86TN3 Interactive Digital Board supports In-cell touch, an advanced technology that incorporates a touch sensor in a LCD panel without airgap between LCD panel and cover-glass. Users can experience excellent touch sensitivity, high visibility and premium look with slim design. It comes with an Active pen which is a special stylus that allows for more natural and accurate handwriting. One can press and adjust the thickness in drawing. The in-built Data mirroring facilitates remote sharing of annotation and enable more effective communication between different spaces through bi-directional writing & sharing in real time. Also, the new Interactive Display Application supports Intuitive UX/UI that includes simple launcher menu, easy control center and seamless tool bar.
LG Transparent OLED signage55EW5F illuminates spaces that once were hidden away behind the display, completely harmonizing with its surroundings.
LG Transparent OLED signage delivers awe-inspiring picture quality in all parts of the screen, even from wide viewing angles. Boasting vivid and clear colors with high transparency (38%), much higher than conventional LCD transparent displays, provides valuable information about as well as visual enhancements to objects placed behind it. It is designed as a semi-assembled display, meaning you can install it in various ways to fit into existing structures and spaces. The tempered front glass protects the screen from external impact.
The IP-Rated Outdoor Display, XE4F series (55/49), can be easily installed in external environments that require complex installation conditions. The XE4F series possess powerful brightness of 4,000nits, providing clear and vivid picture quality even under direct sunlight. IPS technology provides better control of the liquid crystals, which in turn allows the screen to be viewed at virtually any angle. By adding more LED units, XE4F operates brighter at a lower temperature and enables clear visibility even when the viewer is wearing polarized glasses. The display is sealed with IP56 design and laminated front glass for reliable operation and optimum protection
The new Window facing XS4F series (55/49), can be installed at indoor places, supports Quad Core SoC which can execute several tasks at the same time without a separate media player. In addition, webOS 3.0 platform enhances user convenience with Intuitive UI and simple app development tools.