Mahindra Electric has announced that its electric 3-wheeler range Treo and Treo Yaari will now be available across New Delhi. It will be priced at Rs. 1.77 lacs (ex-showroom New Delhi for Treo Yaari SHT) & Rs. 2.79 lacs (ex-showroom New Delhi for Treo SHT).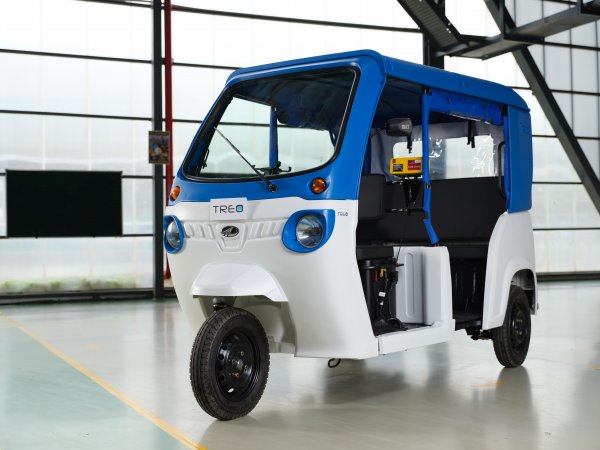 Treo, India's first lithium-ion electric 3 wheeler platform, provides eco-friendly last mile mobility. The Treo platform was conceptualised to effectively cater to the needs of both individual customers and aggregators such as fleet owners and institutional buyers, while delivering a superior value proposition as stated by the company.
Both Treo models are available in the industry-first hard top weather proof variants. With the use of light weight technologies and composite body panels, the Treo offers a driving range of upti 130 km (eAuto) in full charge. It also offers best in class comfort for passengers with one of the most spacious interiors in the segment. It's clutch-less, noiseless and vibration free drive, offers the driver an absolutely fatigue free journey. Apart from all these benefits, Treo range also offers excellent earnings.
Salient Features of Treo range:
Superior Lithium-ion technology – Advanced, maintenance free, lithium-ion battery offers more than 5 years battery life & 3 years standard warranty
Low Operating Cost – Treo has a running cost as low as only 50 paise per km compared to Rs. 2 per km of traditional LPG autorickshaws & a maintenance cost of only 10 paise per km which is 1/4th of the traditional LPG autorickshaws
High earnings – Treo Auto has potential to save Rs. 4000 extra every month as compared to a traditional LPG auto. At the same time Treo Yaari has a potential to save Rs. 9000 extra every month as compared to a locally assembled lead acid e rickshaw
Easy charging – Treo Auto takes approx. just 3 hours & 50 minutes for a full charge while Treo Yaari gets fully charged approx. only in 2 hours & 30 minutes
In-built safety – Treo offers in-built strong rear crash guard, reinforced chassis & space frame architecture providing additional safety to the driver as well as passenger
Personal Accident Insurance Policy worth INR 10,00,000 on purchase