Matter tech start-up, showcased its next-generation EVs and concepts at the Auto Expo 2023. The 6 KWh variant of the Matter-bike, India's first geared motorbike, is built on the innovative Matter-bike platform and offers an enhanced range with fast charging capabilities under 2 hours. The price and pre-orders for the newly launched bike will be soon announced for the Indian Market.
The Matter-bike is designed in India to give an unrivalled sport bike riding experience while incorporating future technology. This is India's first geared EV Motorbike with a Hyper-shift gearbox coupled with India's first liquid cooled 2-wheeler EV powertrain. It hosts a bi-functional Class D LED projector headlamp, a unique body mounted front blinker lights, split-style LED tail lamps, and progressive rear blinkers. The 7-inch touch screen includes 4G connectivity, Bluetooth, Wi-Fi, and Android software, aiding call, music, navigation, and advanced ride stats. The onboard 5A charger allows you to charge anywhere on the road.
Matter Concept EXE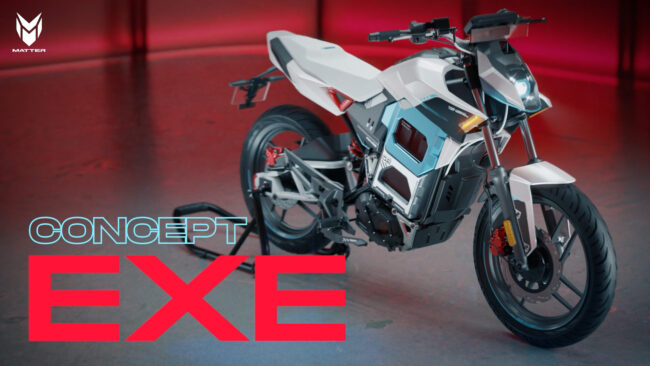 The concept of this motorbike will house a swap technology for endless mile munching; the manual gearbox provides complete control of the power delivery to the rider. The progressive design and connectivity will create smart experiences that will drive the big shift to EV adoption, while being very cost effective to run and maintain. All these features will come together to create a motorbike that is modern and powerful, yet conscious of its environmental impact.
Matter Concept UT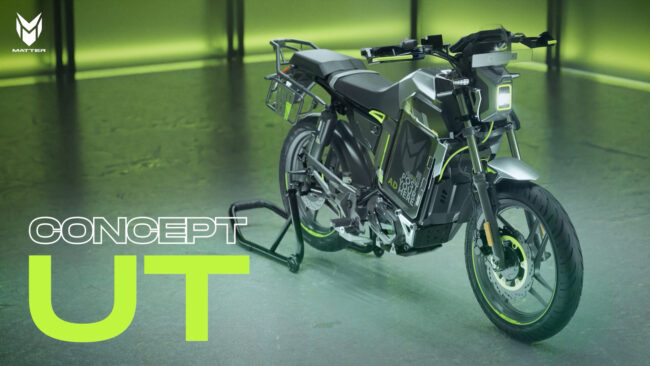 The Concept-UT is developed taking into consideration needs of the delivery persons. It is one-of-a-kind combination of form, function, and application while also acting as a wage-winning tool for this set of consumers. It houses a game-changing blend of innovative swappable technology for infinite riding. Coupled with connected features and cost economics. This concept will set a new precedent for the transition to EVs for the most important segment. Matter will continue to leverage the Concept UT platform with many new application possibilities fulfilling the needs of diverse utility subsegments across India.
Also showcased today were following offerings:
HomeDock Inverter
The smart home dock is energized by a dual-purpose battery solution, which can be used for both mobility and domestic energy storage applications. This lithium-ion battery solution will be built on the principles of battery swapping technology to power a two-wheeler and home inverter interchangeably. The use of lithium-ion batteries in domestic applications is step forward towards a cleaner future. The smart connectivity features will enable connected experiences via the smart home ecosystem and mobile connected features. Matter Energy and the home inverter segment leader Luminous power have joined hands to create and distribute this new innovative product in India and abroad.
Swap.ME
Swap ME! is the concept of its upcoming battery swapping ecosystem. This swapping ecosystem is built with state-of-the-art technology and service models with features like, swap system, data integration, thermal management, predictive AI, and a smart user interface. This ecosystem will enable different service models to flourish and cater to the demands of the users. Swap ME! stations are quick plug-and-play docks, one can swap batteries in less than a minute aiding the riding requirement by the segments.
Matter's battery swapping technology will cater to battery packs for two- and three-wheelers. The Swap ecosystem is technology-enabled and connected, so consumers can refill on the go. The Swap ME! is supported by a smart GUI and mobile application, which keeps you up to date on a variety of metrics such as SoC, SoH, SoP, Battery Temperature, Voltage, Amperage, and Number of Cycles.