Leading chipsets maker, MediaTek has announced at an event in New Delhi that its flagship 5G chips under the MediaTek Dimensity family, including Dimensity 9000, 8000 and 8100 will power the upcoming premium smartphones. MediaTek has collaborated with almost all the popular OEMs in India and we will see lot of flagship phones equipped with Dimensity range of chipsets in the coming days. As far as we know, the upcoming OnePlus 10R which is speculated to be launched in India on 28th April will be packed with Dimensity 8100 chipset.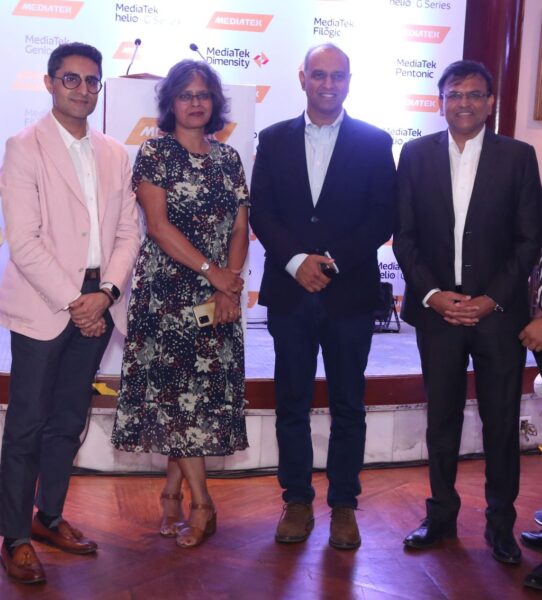 Besides smartphones, MediaTek is also enabling enhanced 5G experiences across the smart device ecosystem in India including smart devices, gaming and connectivity solutions.
MediaTek Flagship chips such as Dimensity 9000 5G is for next-generation smartphones and Dimensity 8100 and Dimensity 8000 system-on-chips (SoCs) brings flagship level technology – connectivity, displays, gaming, multimedia and imaging features to premium 5G smartphones.
With MediaTek Dimensity 5G Open Resource Architecture, OEMs will be able to create more customized consumer experiences, with closer-to-metal access to unlock customized consumer experiences that differentiate flagship 5G smartphones.
MediaTek is a leader in 5G technology, powering innovative smartphones and enabling ultra-fast, near-zero-latent 5G network. MediaTek is also enabling incredible performances across 5G modems for PCs, Wi-Fi hotspots, broadband customer premise equipment (CPE), industrial IoT applications, and more.
MediaTek remains a market leader in digital TVs, voice assistant devices, Wi-Fi routers and other smart home products with a portfolio that caters to a wide range of customers across smartphones, smart homes, automotive, IoT and home/enterprise connectivity segment.
MediaTek has the broadest Wi-Fi portfolio and is the No. 1 Wi-Fi supplier across broadband, retail routers, consumer electronics devices and gaming. It is also the first company to showcase the real potential of the forthcoming MediaTek Wi-Fi 7 Filogic connectivity portfolio in live demonstrations for key customers and industry collaborators.
MediaTek unveiled its new Pentonic smart TV family with the introduction of the Pentonic 2000, which will power next generation flagship 8K TVs. The MediaTek Pentonic smart TV series is built on MediaTek's innovative technologies in display, audio, AI, broadcasting and connectivity.
The company is also keen on enabling disruptive technologies and boosting R&D capabilities to further expand its India footprint over the next few years. With 5G likely to be deployed soon, MediaTek is upbeat on 5G prospects in India and is offering solutions aimed at enabling the entire smart device ecosystem.