Taiwan bases chipsets maker, MediaTek has showcased its latest innovative solutions portfolio and in-vehicle technologies at the Connected Vehicle 2022 event in Bengaluru. MediaTek automotive solutions at the event include Kent CamEye, powered by MT8788, PV Technologies Smart Cockpit / In-Vehicle Infotainment (IVI) powered by MT8675 and Surround View Camera featuring MT8666 and Two-Wheeler Smart Instrument Cluster powered by MediaTek by New Age Tech.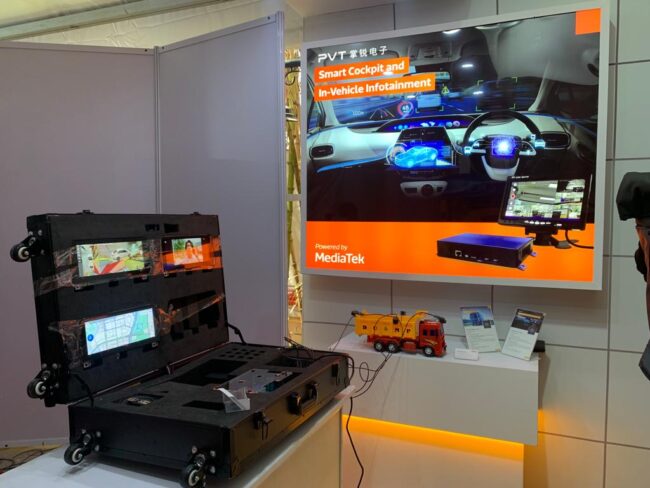 Smart Cockpit & In-Vehicle Infotainment: The in-vehicle modem is an SoC solution tailored for automotive specifications and delivers stable operation under high temperature environments to transmit data in real-time and meet safety requirements for driving. MediaTek telematics and in-vehicle communication technology support key applications. The MediaTek carrier aggregation technology maximizes the use of network bandwidth and a built-in application processor allows auto manufacturers to offer more add-on services and applications. The integrated hardware security module (HSM) and encryption engine protect network and data security and the integrated chip aids lower system costs and simplify the system design.
New Age Tech Two Wheeler Smart Instrument Cluster: The Cluster is Android 11 and Android Automotive & Apple Carplay ready offering the customers a powerful AI Quad & Octa-Core processor experience with 2. 7 to 10 inch HD+ & FHD Display Support, On-Board Light Sensor and IMU Sensor, Integrated 4G LTE & GNSS, Dual-band Wi-Fi and Bluetooth 5.0.
Kent CamEye: It supports customers by helping them stay connected to their family and kid when they are on the go, using dual cameras to monitor whatever happens inside and outside the vehicle. It allows either camera to broadcast live video, from anywhere in the world, using Artificial Intelligence-based technologies like facial recognition. GPS tracking and Route replay offer easy monitoring of the entire route taken by the driver while Live Video Steaming lets the parent keep an eye on their family while driving. AI-Based Smart Alerts supply constant updates about the car, like place of alert, geo-fencing alert, AC on alert, unknown driver, engine idle, and more. Kent CamEye also has a unique 2-way calling feature and night vision support.
Speaking about the innovative solutions, Raghavan Sampath, Director Business Development, MediaTek India, said, "MediaTek has been at the forefront of the connected ecosystem, and our innovative chips are powering solutions across the milieu. Connected automotive has been a major focus area for us and we are keen on enabling safe and automated driving experiences through our collaborations with OEM partners. We believe that, with the upcoming deployment of 5G, India exhibits huge potential in terms of connected vehicles and automated driving we are primed to transform the sector with our future-ready solutions."