Samsung today launched four new models of Curd Maestro Refrigerators in larger capacities. Samsung Curd Maestro Refrigerators will now be available in 386 litre and 407 litre capacities, and come with Samsung's proprietary innovations such as Convertible 5-in-1 Technology, Twin Cooling Plus, Digital Inverter Technology and Stabilizer Free Operation making them energy efficient. The new models of Double Door Frost Free Curd Maestro Refrigerators also come with a stainless steel curd container.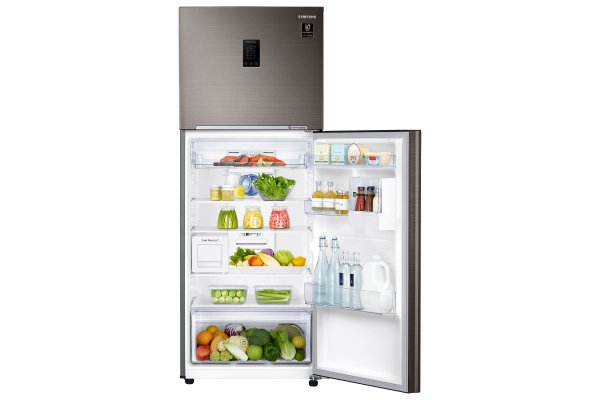 Curd Maestro addresses the complex, time taking, and tricky problems in curd making, which is an essential food ingredient in Indian households. Using the Curd Maestro, one needs to boil and cool the milk and mix the curd culture manually while Curd Maestro does the most crucial part of the job – fermentation. It will not only ferment the curd but will store it too. Curd Maestro makes curd with the same consistency each time and eliminates all the hassle of curd making in different weather conditions. Curd Maestro enables curd preparation in 6.5 to 7.5 hours – 6.5 hours for soft curd, 7.5 hours for thick curd.
The Convertible 5in1 technology in Curd Maestro Refrigerators offers five conversion modes to take care of all your refrigeration needs – Normal, Seasonal, Extra Fridge, Vacation and Home Alone.
Twin Cooling Plus Technology works as a truly independent cooling system, with separate airflows in both the fridge and freezer, preventing unpleasant smells from foods moving between the fridge and freezer. Two evaporators manage the fridge and freezer space separately to minimize temperature fluctuation and maintain a humidity level of up to 70%, leading to longer freshness and less wastage of food. Digital Inverter Compressor of these refrigerators comes with a 10-year warranty.
Samsung's Curd Maestro Refrigerator models will now be available in 386 litre and 407 litre capacities, apart from the existing 244 litre, 265 litre, 314 litre and 336 litre capacities. The new models will be available in two colour variants – Refined Inox and Luxe Brown – at all retail channels and on Samsung's official online store Samsung Shop, starting September 10, 2020.
The four new models will be available in 2-star and 3-star rating options. The 386 litre capacity will be priced at INR 55,990 for 2-star and INR 56,990 for 3-star models while the 407 litre capacity will be priced at INR 61,990 for 2-star and 63,990 for 3-star models.
On buying Curd Maestro Refrigerators, consumers can avail limited period offers such as cashback of up to 15%, one EMI off and EMIs starting as low as INR 990.