e-commerce brand, Noise has introduced its second action camera, Noise Play 2, which is waterproof and rugged at a price of INR 9,999. It it available on Flipkart and gonoise.com.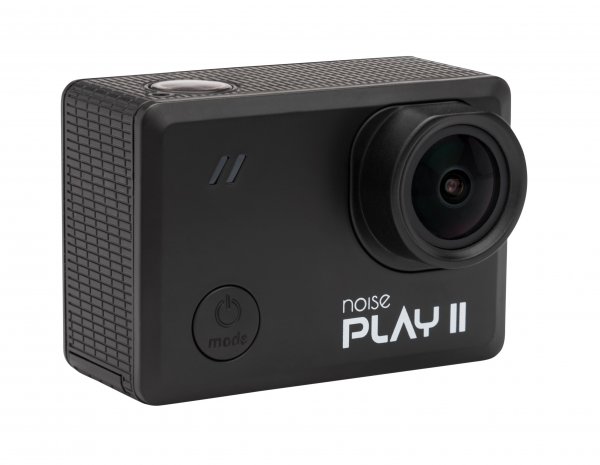 The Play 2 is designed for recording action and has the capability for clear and sharp image mode. It offers varied resolution options, loop recording, dynamic range ability, electronic image stabilization for smooth footage and ultra-sharp look to the videos/images. In addition, it comes with features like colour, contrast, in built microphone as well as support for external mic & motion detection. It also has a mode called 'RAW' which is exclusively for the professional photographer in you with manual settings to take pictures.
Play 2 sports an immersive display of 2.0″ TFT LCD, powerful optimized resolution and video & picture formats. The Noise Play 2 also offers in-built Wi-fi and long-lasting chargeable battery. Additionally, it also features F2.8 Aperture, 7G glass lens, microphone (Built-in as well as Support external), built-in speaker and has Mini USB, Micro HDMI & Micro SD Slot ports.
Mr. Gaurav Khatri, CEO, Noise said, "Play 2 is all about infusing the spirit of adventure with capturing in action. It's an action camera designed in India and for the masses. With its easy-to-use yet advanced features, the camera is all about delivering significantly enhanced and refined images & videos with convenience. It is our way of giving our community the revolutionary and superior technology especially to the youngsters and tech-savvy users."
The MRP of this camera is Rs. 13,999 and the retail price for Play 2 will be Rs. 9,999. The accessory kit will be sold separately at Rs. 3,999 (MRP), SP will be Rs. 2,499. The accessory kit also includes 16 GB Class 10 memory card alongside standard accessories such as waterproof housing, handle bar mounts and base plates.
Features & Specifications
Lens
F2.8 Aperture, 7G glass
FOV
166°
LCD Display
2.0″TFT LCD 320X240 RBG
Video Resolution
4K (2880*2160)16:9 24fps,4K (2880*2160)4:3 24fps,1440 (2560*1440)16:9 30fps, 1440 (1920*1440)4:3 30fps,1296 (2304*1296)16:9 30fps,1080 (1920*1080)16:9 60fps, 1080 (1920*1080)16:9 30fps, 1080 (1440*1080)4:3 30fps,720 (1280*720)16:9 120fps,720 (1280*720)16:9 60fps,  720 (1280*720)16:9 30fps,  WVGA (848*480)16:9 30fps,
VGA (640*480)4:3 240fps
Video Format
H.264 codec, .MP4 file format
Picture Format
JPG
Video Looping
Supported
Photo Resolutions
16MP 4:3
14 MP 4:3
12 MP 16:9
12MP 4:3
10MP 16:9
10MP 4:3
8MP 16:9
8MP 4:3
VGA
Time Lapse Photo
0.5S / 1S / 2S / 5S / 10S / 30S / 60S
Microphone
Built-in Microphone
Support External Microphone
Video out
HDTV: Micro HDMI to HDMI cable required (Sold separately)
TV: Mini USB to composite cable required (Sold separately)
Speaker
Built-in
Wi-Fi
Built-in
Remote Control
Optional
Ports
Mini USB, Micro HDMI, Micro SD Slot
Storage
MicroSD memory card with Class 10 or UHS-1 rating required
Up to 128GB capacity supported
Record times vary with resolutions and frame rates
Battery + Charging
Rechargeable lithium-ion battery
Battery Capacity: 1200mAh
USB Charging: DC 5V 1000 mA
Weights and Measurements
59mm(L)×41mm(W)×32.9mm(H)