Brand Noise has released its first smart ring, Luna Ring. It fosters cognitive functioning by delivering across three core metrics – Sleep, Readiness, and Activity. Tracking more than 70 metrics, Noise's smart ring comes equipped with advanced sensors and robust built quality helping users elevate their lifestyle effectively. Validated by prestigious institutions, including IIIT-Hyderabad and All is Well (AIW), Luna ring has been benchmarked against gold-standard products used for fitness and health applications, to determine their reliability. The trials were conducted to study data from sleep stages and measure the accuracy of steps, calories, heart rate, body temperature, and other vital metrics.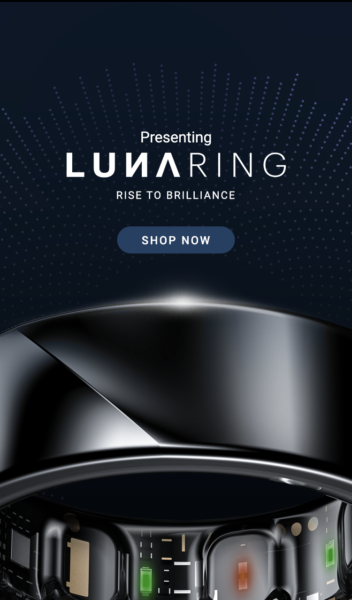 Luna Ring makes its debut today on gonoise.com at an exclusive price of INR 14,999. Consumers who had pre-booked their Luna ring with an exclusive Priority Access pass and have been waiting can now avail the smart ring from gonoise.com, unlocking the exciting discounts, benefits, and special offers. The pass can be redeemed with an additional INR 1,000 discount on the day of purchase. The pass holders are also eligible for an additional discount on smart eyewear, Noise 1 along with INR 2000 worth of liquid/damage/theft insurance, translating to a direct cash benefit of INR 3,000.
The Luna Ring can monitor Sleep, Readiness, and Activity scores daily, and provides valuable insights and recommendations to optimize rest patterns and overall health. The temperature sensor tracks body variations influenced by diet and exercise.
With a subscription-free experience and access to insights on the brand's in-house Luna Ring App, the smart ring offers automatic firmware updates. It is made for everyone, and to ensure an immersive experience right from the start of the users' journey, a tailor-made sizing kit will help valued consumers identify the right size while getting their final Luna Ring. It comes in seven-ring sizes and five colour options out of which Stardust Silver, Lunar Black, and Midnight Black will be available for customers starting today.
Luna Ring's advanced sensors – Infrared PPG, Skin Temperature, and 3-axis accelerometer, offer exceptionally accurate health tracking capabilities with precise optical sensor alignment for accurate data. In-built algorithms and personalized nudges offer tailor-made insights and accurate results
The state-of-the-art wearable is designed with an ultra-lightweight 3mm form factor, offering a second-skin feel. Crafted from fighter-jet grade titanium and a diamond-like coating, it ensures resistance to scratches and corrosion, providing robust build quality. The hypoallergenic smooth inner shell and guided-wearing outer shell cater to every skin type.
Powered by BLE 5 technology, and water-resistant up to 50m, Luna Ring offers convenience and durability. It has an impressive battery life of up to 6 days on a single charge.
Commenting on the announcement Amit Khatri, Co-Founder, Noise, said, "Designed with utmost precision and care, Luna Ring represents an innovation aimed at enhancing the lives of our users, enabling them to pursue their best and healthiest selves. We're excited to introduce the Luna Ring today, our first smart ring and transformative addition to the smart wearable lineup. It symbolizes Noise's commitment to merging technology with well-being, empowering individuals to take charge of their cognitive performance. The validations from certified institutions reinforce our confidence that Luna Ring will make a significant impact on our consumers' lives, fostering overall well-being."