OnePlus has revealed few details about the primary camera of OnePlus Nord 3 5G ahead of its global launch on 5 July 2023.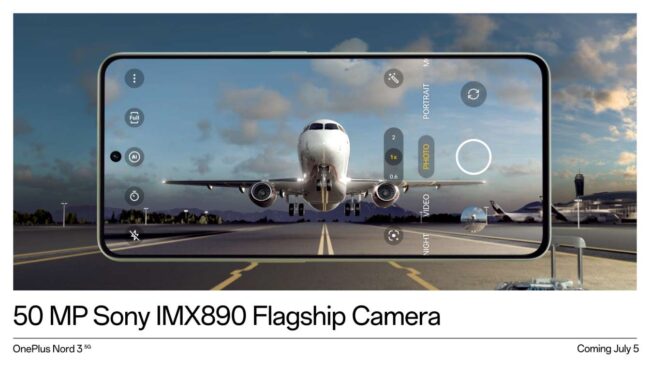 According to OnePlus, the OnePlus Nord 3 5G will use a combination of the best photography hardware and OnePlus-developed algorithms. The OnePlus Nord 3 5G's main camera sensor will be the Sony IMX890, the same 50 megapixel sensor used in this year's flagship phone the OnePlus 11 5G, and comes equipped with the same optical image stabilization technology too. It will also feature OnePlus's proprietary photography algorithms – also seen on OnePlus 11.
"OnePlus Nord 3 5G may be our newest mid-range phone, but that doesn't mean it will give a mid-range photography experience," said OnePlus COO and President Kinder Liu, commenting on his Twitter feed."We've taken the core of our flagship OnePlus 11's camera technology and brought it to OnePlus Nord 3 5G to make sure our users get a great experience with every photo they take."
OnePlus Nord 3 5G will be available in two colourways of Tempest Gray and Misty Green.
More details about OnePlus Nord 3 5G will be revealed at the OnePlus Nord Summer Launch Event on 5 July 2023.