Alongside the OnePlus Nord 3 5G, OnePlus also unveiled the new OnePlus Nord Buds 2r. With its powerful 12.4mm Extra Large Drivers, the OnePlus Nord Buds 2r claims to deliver enhanced bass quality for bolder beats. The titanized vibrating diaphragm provides crystal clear and bold sound with an instant response, guaranteeing a premium listening experience for all types of audio. To further optimize audio performance, a high-tension wire copper coil has also been integrated into the earbuds to improve the tension and endurance of the earbuds, resulting in more stable audio.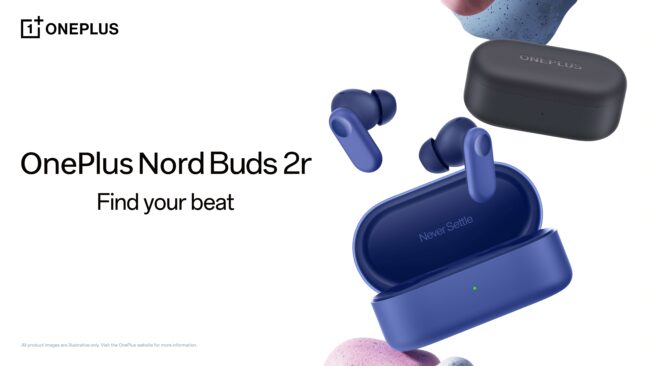 The OnePlus Nord Buds 2r boast a Master Equalization system. With multiple sound profiles available, including Bold, Bass, and Balanced, users can choose the best profile for them on their OnePlus phone or the HeyMelody app. In collaboration with Dolby Atmos technology, the OnePlus Nord Buds 2r also introduces a multidimensional soundstage that surrounds users from all directions. Additionally, the inclusion of the Dirac Audio Tuner ensures smooth performance and elevated fidelity, especially when the buds are connected to OnePlus devices.
The OnePlus Nord Buds 2r feature dual mics on each earbud for precise vocal detection and enhanced noise cancellation. When combined with the in-built AI Clear Call Noise Cancellation Algorithm, the earbuds can effectively filter out ambient noise, allowing human voices to be heard with exceptional clarity during phone calls and removing the inconvenience of having to constantly adjust the volume to compensate for unclear audio.
In addition to the dual mics, the OnePlus Nord Buds 2r feature a wind-noise reduction mechanism that optimizes voice quality in noisy or loud environments. By perfecting the positioning of the microphone on the earphone, the ingenious design effectively blocks wind interference to guarantee pristine audio quality during calls.
With the integration of the Dual Mics and the AI Clear Call Algorithm, together with the wind-noise reduction mechanism, users can enjoy uninterrupted conversations with exceptional audio quality, regardless of their surroundings, on the OnePlus Nord Buds 2r.
These earbuds offer battery life of up to 8 hours on a single full charge, and up to 38 hours of playback through the charging case. They also boast IP55 water and sweat resistance, providing reliable protection for internal components against moisture damage. The OnePlus Nord Buds 2r have been designed to provide additional comfort when fitted into the ear canal. These have been extensively tested on a large selection of users to guarantee high compatibility with differently shaped ear canals, allowing for a more comfortable listening experience. On top of this, the OnePlus Nord Buds 2r also comes with a 12-month product replacement warranty.
The OnePlus Nord Buds 2r has inbuilt support for Bluetooth 5.3, which offers low latency of 94ms for zero-disruption gameplay. The earbuds also introduce the Fast Pair feature, simplifying the pairing process with nearby Android devices to create a hassle-free experience without a complicated setup process. OnePlus Nord Buds 2r also includes a surprise sticker that can be used to personalize the earbuds, so users can create their own unique OnePlus Nord Buds 2r to stand out from the crowd.
The earbuds come in two colors: Deep Gray and Triple Blue. OnePlus Nord Buds 2r's Deep Grey color goes on sale on 5th July and the Triple Blue variant goes on sale on 15th July. The price for the OnePlus Nord Buds 2r starts at INR 2,199. OnePlus Nord Buds 2r will be available across oneplus.in , OnePlus store app, Amazon.in , Flipkart.com , Myntra.com , OnePlus experience stores and select partner stores.