OnePlus has announced that it will be launching its first foldable smartphone – OnePlus Open at an event in Mumbai on 19th October.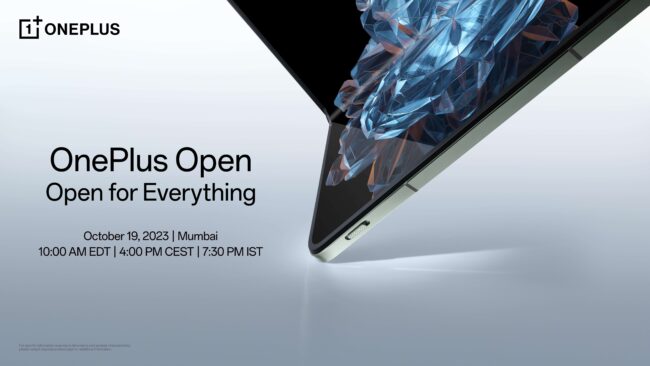 To compete with Samsung, Oppo and few other players who are into foldable phones, OnePlus will be giving them strong competition with its first foldable phone. According to OnePlus, "Open" not only represents the new foldable form factor, but also OnePlus's openness to new possibilities and potential. Through the "Open for Everything" tagline, OnePlus embraces all possibilities and continues to explore new opportunities with evolving smartphone form factors and an open mindset.
"The OnePlus Open is the dream smartphone, set to break the compromise between display technology, imaging performance, and weight that has become the status quo for existing foldable devices," said by Kinder Liu, President and COO of OnePlus. "Inheriting OnePlus's signature fast and smooth experience, plus its elegant, lightweight, and slim design, alongside an imperceptible screen crease, unprecedented imaging performance, efficient software, and premium quality, the OnePlus Open will redefine the concept of foldable smartphones by delivering all-round flagship-level experiences that push the limits of current foldable smartphones and take the standard of foldables to the next level."
Stay tuned for more details in the cming days!