LG Electronics India has announced its next phase of Corporate Social Responsibility (CSR) endeavour, "KAREIN ROSHNI: Light For Every Sight," aimed at transforming lives through comprehensive eye care and surgical interventions. This year's initiative marks a significant expansion of the program's reach as LG India collaborates with six new partners to support 14,500 cataract surgeries across India to amplify its impact as stated by the company in its press statement.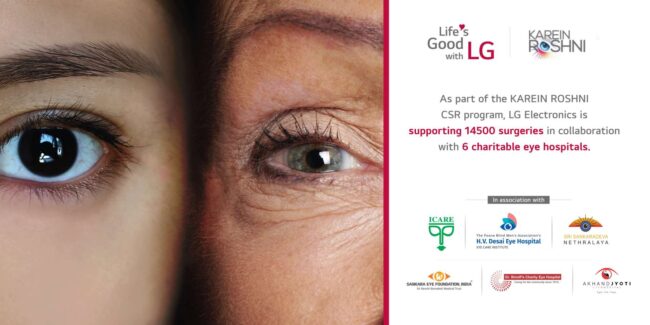 Under the banner of "KAREIN ROSHNI," LG India has entered into partnerships with six esteemed hospitals across the country, thereby solidifying its commitment to improving eye care accessibility and eliminating preventable blindness. Through these partnerships, a projected total of 14,500 surgeries are anticipated to be performed during the fiscal year 2023-24 across India, a remarkable testament to LG's dedication to making a difference through six charitable hospitals namely – Dr. Shroff's Charity Eye Hospital, Icare Eye Hospital, Noida (unit of Ishwar Charitable Trust), Sankara Eye Foundation (A unit of Sri Kanchi Kamakoti Medical Trust, H.V. Desai Eye Hospital (The Poona Blind Men's Association), Sri Sankaradeva Nethralaya Guwahati (a unit of Sri Kanchi Sankara Health and Educational Foundation), Sri Akhand Jyoti (Yugrishi Shriam Sharma Acharya Charitable Trust).
Furthermore, the initiative encompasses a comprehensive awareness campaign about eye care to educate and empower individuals to take charge of their visual health. By promoting eye care awareness, LG endeavours to prevent avoidable blindness and enhance the quality of life for countless individuals across India.
Commenting on the initiative, Hong Ju Jeon, MD, LG Electronics India said, "At LG, our commitment goes beyond innovation – it's about illuminating lives. Building on the incredible response to the flagship initiative KAREIN ROSHNI, we're thrilled to take this forward on a bigger scale. With this initiative, we're not just offering vision, but also awareness, choices, and possibilities to the lesser privileged society. For over 25 years, we've constantly elevated lives, and our "KAREIN ROSHNI- Light For Every Sight" CSR initiative is another stride on that path. We extend heartfelt thanks to our partner hospitals for joining us in this noble cause."