Piaggio India has introduced its stylish Aprilia Storm in India with a high powered 125 CC three valve engine. This scooter comes in two distinct colours – matte yellow and matte red supported by bold graphics aimed at imaginative, fashionable and socially conscious Generation Z.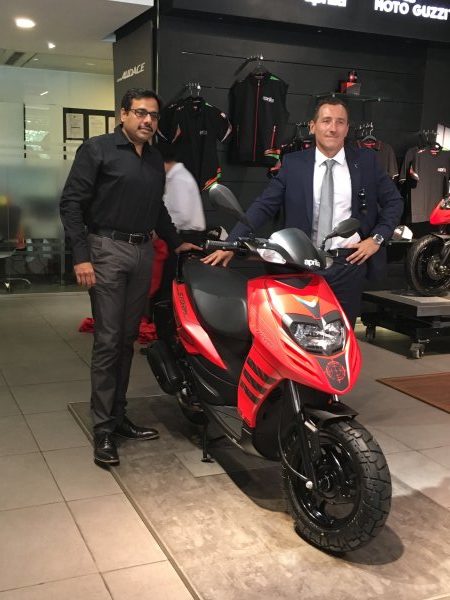 The Aprilia Storm automatic scooter is balanced by wide terrain 12-inch tyres which lends it a sturdy character. The distinct sporty handlebar, the light unit included in the shield and above all the pronounced "beak" on the front wheel characterize the front end of the powerful scooter. Its CBS system provides proportional brake distribution between the front and rear wheels thereby increasing the stability of the vehicle.
Aprilia Storm is priced INR 65,000 (ex-showroom Pune).
Commenting on the launch of Storm, Mr Diego Graffi, Managing Director and CEO, Piaggio India said, "We are delighted to launch the long-awaited Aprilia Storm in India. Known for its undisputed racing heritage, Aprilia uses cutting-edge technology to design and create premium differentiated products for the youth of the country that reflect the true characters of brand Aprilia. Storm has a dynamic exterior theme with vibrant colours, specially designed wide terrain tyres, 125 cc engine and customisation through accessories that makes it unique."
Mr Ashish Yakhmi, Head of Two-wheeler business added, "Our premium lifestyle products reflect the personalities and attitudes of the rider, we believe Aprilia Storm will catch the imagination of the discerning Indian youth, break new grounds and help us reach out to a larger audience. The stylish and sporty Storm will fit perfectly in the squad, be the most reliable partner for impromptu plans and bring together groups of friends to share memorable riding experience."