Brand PLAY has launched today two smartwatches in India – PLAYFIT FLAUNT2 and PLAYFIT DIAL3 PRO. The PLAYFIT FLAUNT2 comes with 1.43 inch SUPER AMOLED Round Display with 600-nits brightness. Its Always-On-Display (AOD) feature provides essential information immediately, eliminating the need to constantly wake up the watch. This watch has a proprietary battery algorithm which allows the smartwatch to provide for more than 7-days of life and is also comes with fast charging technology.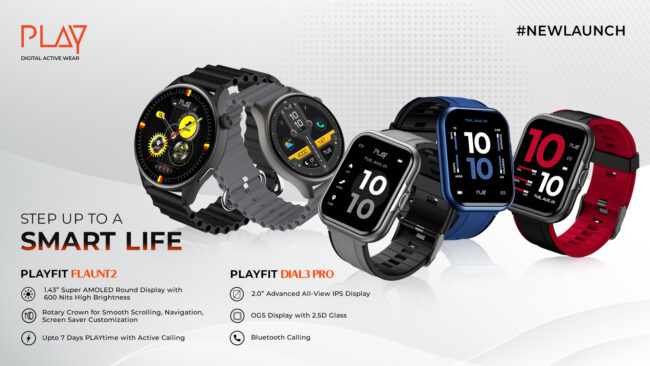 This watch comes with a rotary crown button for intuitive scrolling, customizable screensavers, and navigation capabilities. PLAYFIT FLAUNT2 enhances convenience by enabling calls and music playback directly from the watch. It has Enhanced Bass, Extra Loud (EBEL) Drivers offering a good call and audio experience.
This watch also incorporates health features such as heart rate monitoring, blood oxygen (SpO2) level tracking, blood pressure measurement, sleep monitoring etc. It supports over 100 exercise modes, breathing exercises, hydration reminders, and even includes a Female Health Tracker. In terms of safety, FLAUNT2 offers an SOS Emergency Call feature and robust privacy control.
This smartwatch integrates seamlessly with popular voice assistants, provides real-time notifications, and offers IP68 Dust & water resistance for versatile use.
The PLAYFIT DIAL3 PRO features 2 inch all-view IPS DISPLAY. The PLAYFIT DIAL3 PRO model also boasts of an integrated chipset for calling and data processing. Its integrated voice assistant, Bluetooth calling, and phone-free music experience cater to the on-the-go lifestyle. Monitoring health parameters such as SPO2 levels, blood pressure, and pulse rate, DIAL 3 PRO is an ideal companion for those seeking to maintain an active lifestyle.
Both the smartwatches come with PLAYFIT companion application, which allows seamless data interoperability between an old PLAYFIT smartwatch and new PLAYFIT smartwatch as well as from old smartphone to the new smartphone. The smart companion application, PLAYFIT, is available on both the Google and Apple stores for easy download.
Both the PLAYFIT FLAUNT2 and PLAYFIT DIAL3 PRO smartwatches are available on FLIPKART and PLAY's webstore. PLAYFIT FLAUNT2 is available at a special launch price of INR 1999 in two colours of Black and Grey colour and PLAYFIT DIAL3 PRO is available at a special launch price of INR 1499 in three colours of Black, Blue and Grey colour.
Commenting on the launch, Mr. Hamish Patel from PLAY, said, "Our journey at PLAY has always been fueled by a passion for innovation, technology, and a commitment to our customers' aspirations. With the launch of PLAYFIT FLAUNT2 and PLAYFIT DIAL3 PRO, we continue to extract the best from commercially available latest technology. These smartwatches are a testament to our belief that fashion, functionality, and well-being augers well for our Indian consumers. On the eve of the Independence Day, we are also delighted to reiterate that PLAY products are designed, developed, and made in India.