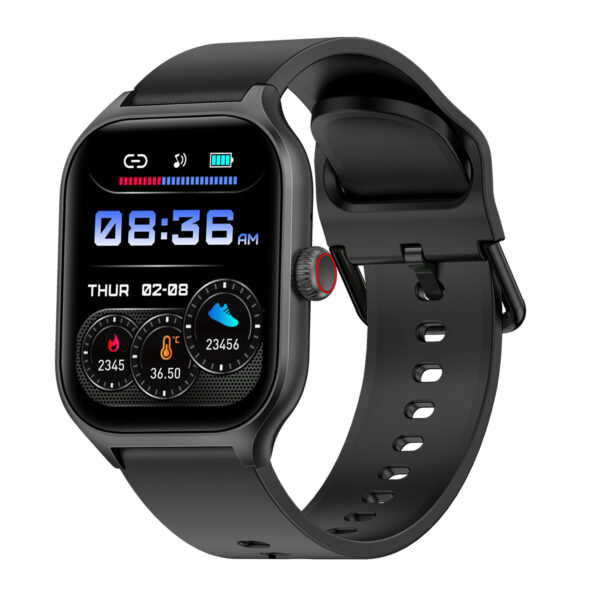 pTron, home-grown brand has announced the launch of its affordable smartwatches – Reflect Max Pro as shown above and Reflect Flash as shown below. These smartwatches combine sleek design and advanced features.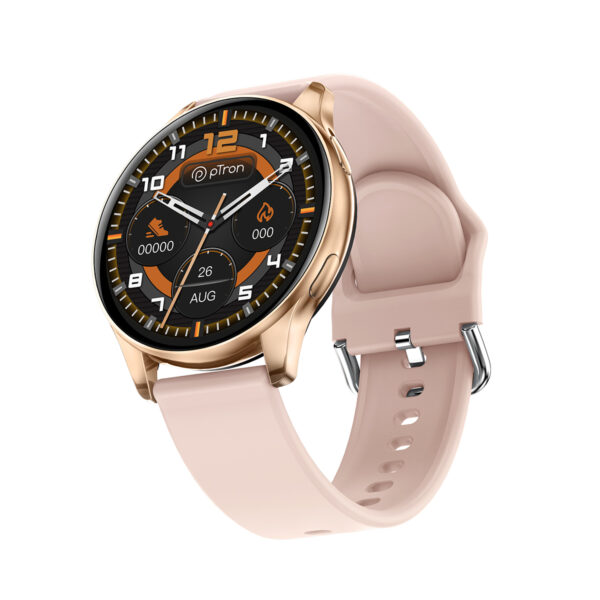 Reflect Max Pro comes with 2.05-inch display, long lasting battery with 15-day standby time. Priced at an attractive launch offer of just 999, Reflect MaxPro is available in five colors: Black, Gold, Blue, Silver, Pink, and Green.
Relfect MaxPro Features:
2.01″ Display: The Reflect Max Pro comes with a vibrant 2.01-inch display.
High Brightness: With 600 NITs brightness, the smartwatch ensures optimal visibility even in bright sunlight.
Smooth Refresh Rate: A 60 Hz refresh rate ensures smooth transitions and responsiveness.
Premium Build: The device features a durable metal frame and a 2.5D curved display glass.
Functional Crown: The inclusion of a functional crown enhances user interaction and control.
Seamless Bluetooth Calling: It has seamless Bluetooth calling feature.
24/7 Health Tracking: Your can monitor your health around the clock with comprehensive health tracking capabilities.
Sports Mode: The sports mode caters to your specific needs.
Vibrant Color Options: It comes with different color variants – Black, Gold, Blue, Silver, Pink, and Green.
Sleep Tracker: Built-in sleep tracker, ensuring you get quality rest.
Extended Battery Life: 5 days of usage on a single charge, with a quick 3-hour full charge and an impressive 15 days of standby time.
Diverse Watch Faces: Over 100 watch faces to suit your style.
The Reflect Flash comes with a Round dial smartwatch with 1.32″ Full Touch Display. This smartwatch offers fast emergency call and alerts (SOS). With quick access to social media features like LinkedIn, Twitter, Messages, WhatsApp, Instagram, and Facebook, it keeps you connected to the people.
Reflect Flash, shares the same specifications as the Reflect Max Pro and comes with additional features:
Zinc Alloy Full Metal Case: The Reflect Flash boasts a sturdy zinc alloy full metal case for enhanced durability.
Full Touch Display: The 1.32-inch full touch 2.5D curved display provides a seamless and intuitive user experience.
Flexible TPU Strap: The smooth and flexible TPU strap adds comfort and style to your daily wear.
Extended Standby Time: With a standby time of 10 days, the Reflect Flash ensures long-lasting performance.
Varied Color Choices: It comes with color options including Black, Blue, Gold, and Silver, all available at an attractive price of Rs 1299.
These smartwatches are available on Amazon.in
Links:
Reflect Flash: https://www.amazon.in/pTron-Launched-Reflect-Smartwatch-Bluetooth/dp/B0CJ9928XF?th=1
Reflect MaxPro: https://www.amazon.in/pTron-Reflect-Smartwatch-Bluetooth-Functional/dp/B0CJ93PSNP/ref=sr_1_5?qid=1700471639&refinements=p_89%3APTron&s=electronics&sr=1-5&th=1