pTron which is affordable digital lifestyle and audio accessories brand in India, today announced the launch of pTron Musicbot Evo Soundbar. This sleek Musicbot Evo is exclusively available on Flipkart at a special launch price of INR 999.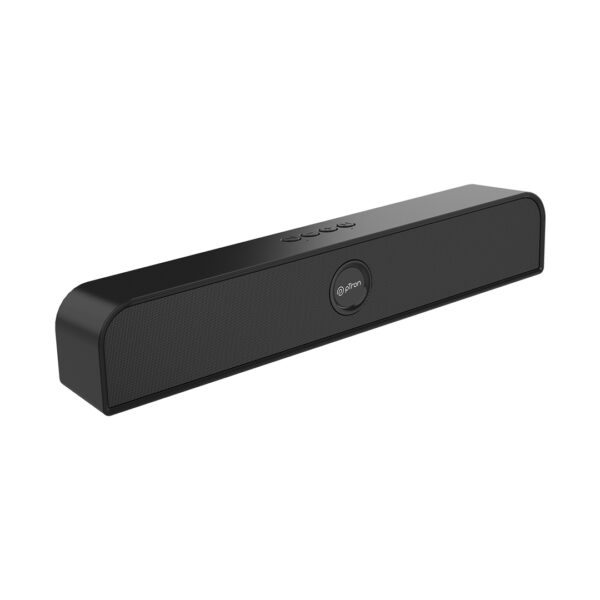 The Musicbot Evo has sleek design and is merely 38.7cm long, 6.5 cm deep and 6.5 cm high. It features a cylindrical design with metallic front grills and smooth rounded edges. It is designed to seamlessly fit any space and blend with the interiors. This light-weight soundbar can be placed under the television or any flat surface for a convenient and elegant setup.
This soundbar is packed with 10W Speakers and 52mm drivers. It can deliver sound for up to 10hrs with deep punchy bass that amplifies the visuals and brings them alive with vivid sound exposure. It comes with 1200mAh Built-in Rechargeable battery and can be charged from zero to full in four hours. The Musicbot Evo soundbar can be connecgted to TV, laptop, mobile phone or tablet with ease and without the clutter of wires via Bluetooth 5.0. You can also connect, sync, and play two Musicbot Evo's together via the wireless stereo pairing function for an amplified music & sound experience.
This soundbar is fully operational from the unit itself with a smooth control panel, allowing to adjust the volume, select tracks, or play and pause music. You can choose from the 3.5mm AUX input, USB drive, TF Card, or Bluetooth to connect the soundbar with any TV or other devices.
Commenting on the launch, Ameen Khwaja CEO & Founder said, "Delivering the best in terms of powerful sound at a more accessible price point to more and more people is our core goal. Engineered to deliver a powerful cinematic experience, the Musicbot Evo soundbar is here to make home entertainment simple yet immersive. State-of-the-art technology blended with a sleek design, the Musicbot Evo redefines the soundbar, creating a totally immersive home cinema experience that's made for every type of user and listener, an perfectly suited with today's HDTV's, laptops, tablets etc."