Smartphone maker Realme has unveiled the 125W UltraDART Flash Charging solution today. The Dart Flash Charging technology has evolved from 30W, 50W, 65W, to reach the surprising zenith of 125W which is claimed to charge 33% of 4000mAh battery of smartphone in just 3 minutes.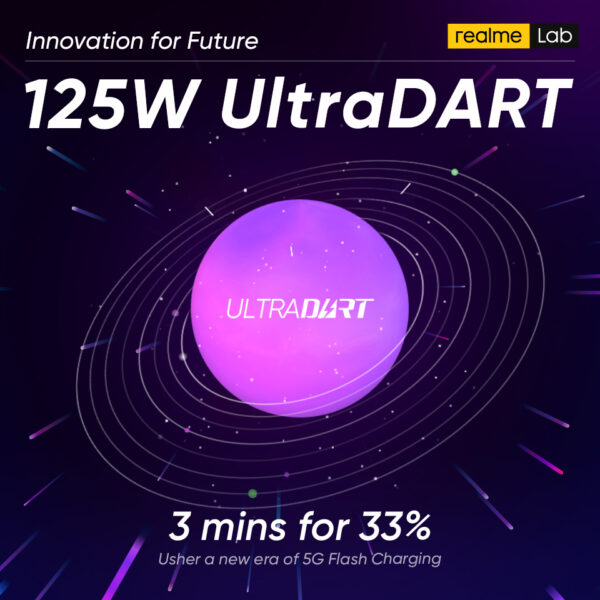 According to Realme, the 125W UltraDART Flash Charging technology offers a perennial remedy to low-battery related problems and worries. Realme has paid close attention to optimize the technology of bringing smartphones back to life in just 3 minutes. This also helps users to charge their mobiles during brief intervals, so that they can be ready to move whenever they want without worrying about battery life.
With 125W UltraDART, a 5G smartphone with a battery capacity of 4000mAh can be charged up to 33% in a record 3 minutes, supporting hours of daily use of 5G smartphone. With this technology, realme has ensured that the smartphone gets fully charged in just 20 minutes, keeping in mind future commercialization and safety aspects. Realme specially controls the smartphone temperature under 40°C to facilitate smart and safe charging speed, instead of pursuing extreme fast charging speed, and risking danger, thereby. Without temperature control, it should be aprox 13 minutes for 100% charge, adds the statement of the company.
The 125W UltraDART focuses on both efficiency and safety, by adopting direct charging, to avoid any potential charging accidents with multi-layer protection. Not only does it support charging even when the screen is on and games are being played, but 125W UltraDART also makes 5G smartphones charge much faster and more safely.