Realme today introduced realme Techlife Watch R100 in India under its TechLife Ecosystem offerings. It has a Bluetooth calling capability to enable you to answer calls and talk back using the watch's built-in high-performance microphone and speaker. The realme TechLife Watch R100 comes with 1.32'' Large Color Display Screen with a resolution of 360×360 pixels and responsive touch for effortlessly controlling the watch. It is packed with a 380mAh battery which can last up to 7 days and can be charged to 100% in just 2 hours.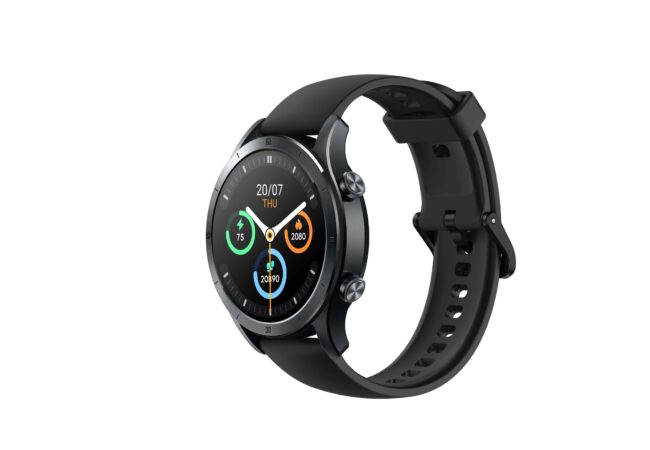 Over 100 Stylish Watch Faces are included in realme TechLife Watch R100. The realme TechLife WatchR100 is available in a variety of stylized themes, ranging from simple, and mechanical to a more elegant and sophisticated look. This watch has round metal dial design and aluminum bezel to give it a look of premium quality watch. realme TechLife Watch R100 is very comfortable to wear for long hours and weighs only 46g. The strap in the smartwatch is made with skin-friendly silicone material – that is comfortable and light and is also suitable to wear while exercising or playing sports.
The TechLife Watch R100 comes with more than 100 sports modes. The watch has a built-in acceleration sensor and unique algorithm, and can record the length of exercise mode, calories consumed, and other exercise data. It can also display real-time exercise heart rate data so you can understand and monitor different states while exercising and you can also personalize sports goals according to your specific needs.
In the realme Wear app, the user can customize the data his watch displays during common workouts. These personalized settings let users quickly check the information for more effective, guided exercise. It has AI running partner mode which allows users to see if they are reaching their pace goals. Users can set the AI running speed and can check whether the real-time speed reaches the target when running, thus can adjust the speed according to the tips.
This smartwatch comes with All-day heart rate monitoring, Blood Oxygen Monitoring, Stress Monitoring, Sleep monitoring, and activity monitoring, provides a drinking reminder for water intake & keeps a track of female health. realme TechLife Watch R100 detects heart rate every 5 minutes 24/7. If the heart rate is lower or higher under special conditions than the safe thresholds, realme TechLife Watch R100 will send you a heart rate alarm to remind you always to be mindful of your physical health.
The acceleration sensor in the watch analyzes whether the user has remained stationary for a long time, and if so, it is considered that the user may be sleeping. "Get up" is determined by whether there is a long period of activity after a "sleep state".
Blood oxygen is continuously monitored by the blood oxygen sensor. The blood oxygen level in the body's blood vessels is measured by two PPG signals – red light and infrared. The state of mental or physical fatigue is assessed by heart rate variability (HRV). HRV is based on heart rate data and is measured by the PPG green light signal.
The Built-in three-axis acceleration sensor determines whether the user is carrying out medium-intensity activities, such as brisk walking, running, carrying, etc., if it is in the activity, it is counted as the length of the activity.
After setting the period length, cycle length, and last menstruation time on the app, users can get notified and be prepared for the corresponding period. Periods are recorded and users can be reminded 1-3 days before the period so that women can be aware of their physical status without fear of sudden period visits.
Realme Techlife Watch R100 comes in two colors- Black & Gre and iis priced at INR 3,999. The smartwatch will go on sale from 28 June 2022, 12:00 noon onwards on realme.com, Flipkart.com & mainline channels. Buyers can avail flat discount of INR 500 on Flipkart and realme.com bringing the effective launch price to INR 3,499