Samsung Galaxy Buds Live which were announced on 6th August has been officially launched in India at Rs. 14,990. Galaxy Buds Live will be available in Mystic Bronze, Mystic Black and Mystic White colours and will go on sale from 25th August via retail stores, Samsung Opera House, Samsung.com and leading online portals.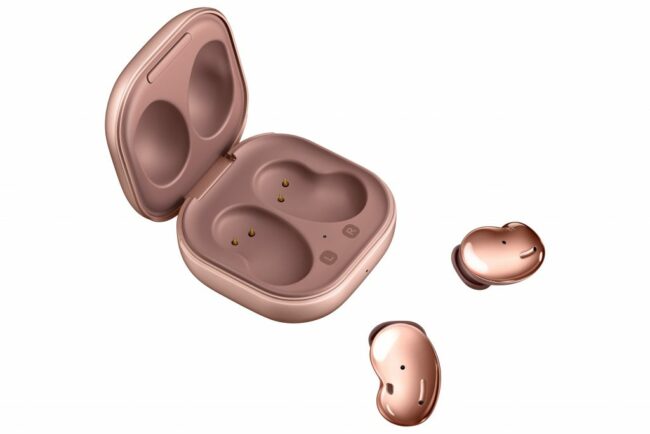 The Galaxy Buds Live have tip-less design which conforms to the shape of your ear, making them comfortable enough to wear all-day. You can further customize your fit with two sizes of wingtips. Samsung has reconfigured traditional earbud design, laying out internal components horizontally instead of vertically. These earbuds don't protrude from your ears, providing a more natural appearance.
Galaxy Buds Live come with a 12mm speaker, three microphones and a Voice Pickup Unit for producing sound and rich audio. These earbuds feature Active Noise Cancellation (ANC) for open type, allowing you to tune out distractions like passing cars and loud laundry machines, while still being able to tune into important announcements and conversations.
The Galaxy Buds Live feature an intuitive touch-based PUI (physical user interface)1 for touch control, as well as Bixby voice wake-up1, which allows you to navigate music, open apps, and send messages hands-free and eyes-free. Plus, Galaxy Buds Live come with long-lasting battery life. When fully charged, your earbuds can support up to 6 hours of playback, and the charging case allows you to enjoy an additional 15 hours over multiple charges. You can get 1 hour of play time with just 5 minutes of charging.
Detailed Features:
Dimensions & Weight
Earbuds: 16.5 x 27.3 x 14.9 mm, 5.6g
Charging Case: 50 x 50.2 x 27.8 mm, 42.2g
Speaker
12mm speaker
Microphones
3 mics (2 outer + 1 inner )
Battery Capacity
Earbuds: 60 mAh
Charging Case: 472 mAh
Play Time
6 hours / total 21 hours (ANC or Bixby Voice Wake-up ON)
5.5 hours / total 20 hours (ANC and Bixby Voice Wake-up ON)
8 hours / total 29 hours (ANC and Bixby Voice Wake-up OFF)
Talk Time
4.5 hours / Total 17 hours (ANC ON)
5.5 hours / Total 19 hours (ANC OFF)
Charging
1 hour play time with 5 minutes quick chargingQi-certified wireless charging
Connectivity
Bluetooth v5.0
Sensor
Accelerometer, IR, Hall, Touch, Grip, VPU (Voice Pickup Unit)
Compatibility
Android: Android 5.0, RAM 1.5GB / iOS: iPhone 7, iOS 10.0
Water Resistance
IPX2