ShareChat is hosting the RecSys Challenge 2023, an annual, global competition organised in conjunction with the Association for Computing Machinery (ACM). The challenge is ongoing and will end on 18 June, 2023. This year's challenge will focus on online advertising, improving deep funnel optimization, and user privacy as stated by the brand.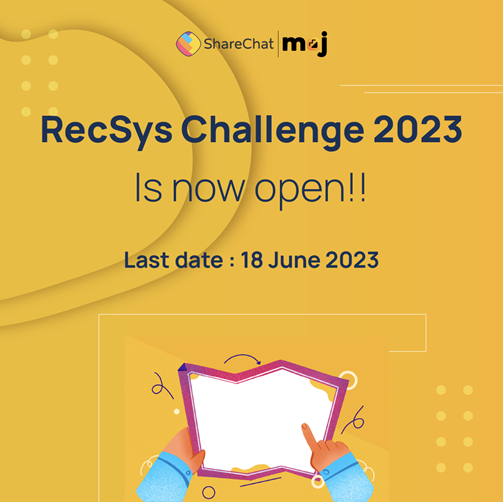 With over 400 million MAUs, ShareChat has the best-in-class AI & ML technology and a strong feed ranking system powering its growth. The social media company's AI team is spread globally across India, Europe and the USA. ACM Conference on Recommender Systems (RecSys) is the premier international forum for presenting new research results, systems and techniques in the broad field of recommender systems. The 17th conference will bring together researchers and practitioners from academia and industry to present their latest results and identify new trends and challenges in providing recommendation components in a range of innovative application contexts. As part of the challenge, ShareChat will be releasing an anonymized dataset corresponding to roughly 10M random users who visited the ShareChat + Moj app over three months to act as a benchmark for research into deep funnel optimization with a focus on user privacy.
Announcing the sponsorship, Rahul Agarwal, Senior Director AI, ShareChat and Moj said, "We are incredibly excited to host this year's RecSys challenge. RecSys brings together the major international research groups and the world's leading internet companies. We are leading the homegrown social media revolution in India with our strong AI and ML capabilities. For this challenge, we have provided a real-world data set with demographic features, content preference embeddings, Ad categorical features and count features which will act as a benchmark for research to solve one of the most complex recommender systems problems at scale. This data also provides a setting where we have anonymised user data with differential sampling across all major dimensions such as demographics, advertisers. This enables research into the privacy aware ad serving, which is the current research frontier for computational advertising."
The shortlisted contributions will be presented at the RecSys Challenge Workshop during the 17th ACM Recommender Systems Conference in September 2023 in Singapore. The top three teams among the participants stand a chance to be awarded cash prizes of $2500, $1500 & $1000 respectively along with a special prize of $1500 for academic teams.