After introducing two soundbars – Beam and Ray – Sonos has expanded its home theatre lineup and launched Sonos Sub Mini wireless subwoofer in India. This subwoofer has compact, cylindrical design.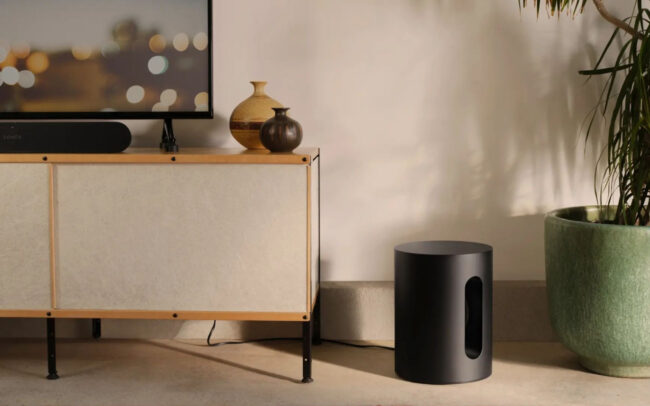 Sonos Sub Mini has Dual custom woofers and its advanced processing generate deep, dynamic low end audio while minimizing buzz, rattle, and distortion. With its acoustically sealed cabinet, both woofers face inward to create a force-canceling effect that neutralizes distortion.
Its Advanced digital signal processing maximizes bass response and reproduces the full-toned low frequencies expected from a much larger subwoofer while handling the low frequencies so paired speakers like Beam, Ray, One, or One SL can focus on more mid-range and high frequencies for a richer, more powerful sound experience all around.
Unlike other subwoofers, Sub Mini features a round design that allows it to blend naturally into your home aesthetic without taking too much space.
Sub Mini can be sett-up with Sonos system in just a few taps on the Sonos app, mixing and matching with different Sonos speakers to create perfect sound system. You can also fine-tune Sub Mini's sound with Trueplay, which detects and adapts the speaker's sound for reflections off of walls and furniture, giving you the best listening experience for your room and setup.
Available in matte black and white, Sub Mini will be available in India at INR 59,999.
"We've entered a more thoughtful era of streaming that prioritizes quality over quantity, with creators and platforms investing in immersive entertainment experiences that put premium sound at the forefront," said Maxime Bouvat-Merlin, SVP for Hardware and Operations at Sonos. "Sub Mini is a welcome addition to the Sonos family, rounding out our home theatre product line-up so listeners can experience cinema-quality sound that makes them feel like the main character – or player – in their favorite content."