On the occasion of Independence Day, TCL known for economical but features enriched Smart TVs, has announced offers on their range of QLED TVs. These offers will remain effective till 16th August. Detail of the offers are goven below: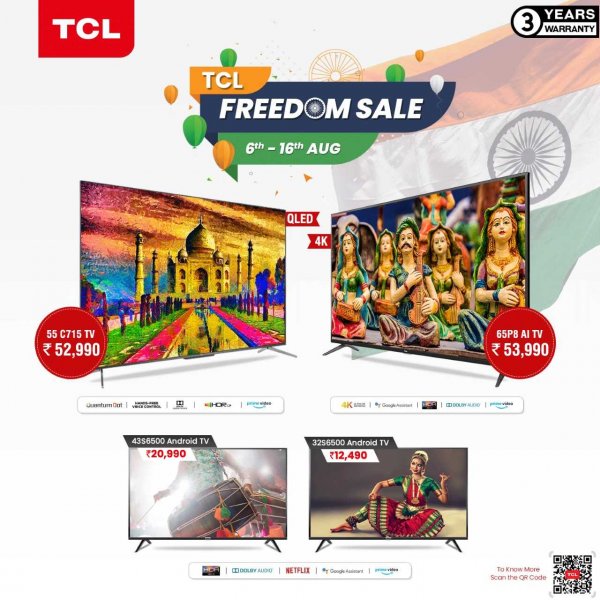 CL 55" C715 comes with Dolby Vision and Atmos, hands-free voice-enabled controls, and Quantum Dot which offers augmented vibrancy of images. This TV also comes with an IPQ engine powered by AI to offer a rich viewing experience. It is now priced at INR 52,990, after a discount of INR 3000.
TCL 65" P8 Series is an Android-powered smart TV with the 4K Ultra HD feature. The ultra HD display uses dynamic tone mapping to reflect each frame resulting in enhanced picture quality. This TV also contains a Sports Mode that provides the immersive feeling of live-action sporting events. The 4K UHD TV is now available at a discounted price of INR 53,990, after its original price of 55,990.
TCL S6500 Series HD AI Smart TV (32") is also powered by Android and comes with Google Assistant, Netflix, YouTube, and HDR support. Originally priced at INR 12,990, the 32 inches smart device is now available for INR 12,490.
TCL S6500 Series FHD AI Smart TV (43") is claimed to have clarity that is 2X higher than standard HD TVs. Like the 32 inches, this also comes with Netflix, Google Assistant, and is fitted with Dolby Audio systems and powered by Android. This TV was initially priced at INR 22,990, and is now available at Rs, 20,990.
Speaking on the offers, TCL India Country Manager Mr. Mike Chen said, "We are delighted to announce these offers on the event of Independence Day. Our televisions are designed with novel technologies and are built for the future. Now, viewers can upgrade their devices for more affordable prices and enjoy a stunning television experience. We will be announcing more such offers soon."