Tork Motors, an Indian electric motorcycle manufacturer has launched electric motorcycles – KRATOS and KRATOS-R. These bikes are powered by Axial Flux motor and the company's proprietary 4kWh TORK LIION Battery pack for robust performance. The battery is water-resistant (up to one meter of water) and has a smart battery management system, that records data from four different temperature sensors, voltage and current for real-time analytics.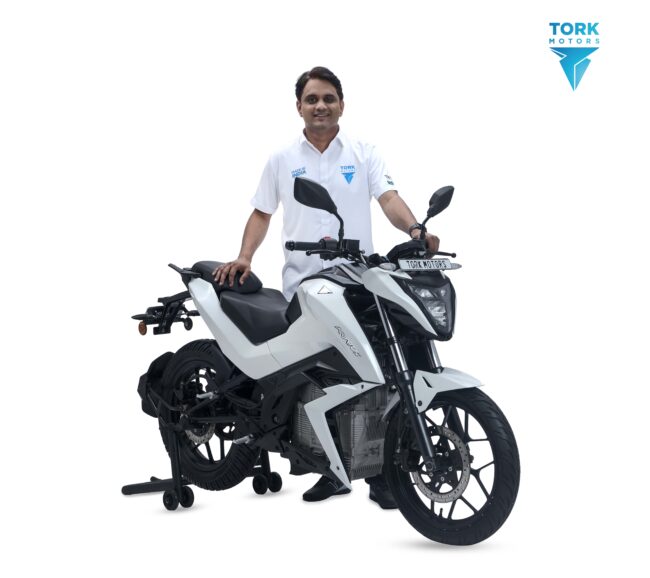 The KRATOS features the signature split trellis frame with the battery pack nestled within to make it a compact and manoeuvrable motorcycle. The KRATOS hosts multi-drive mode, reverse mode, front storage box, battery indicator, safe home feature, crash alert and anti-theft system, among others. The electric motorbike also comes with daytime running lights (DRL), hazard light and guide me home lights. It also receives Over The Air (OTA) updates.
KRATOS comes with a home charger and can be charged easilyby simply installing a charging plug at home. In addition, Tork Motors plan to install a network of charging stations, called T NET around the city for the ease and connectivity of riders. In terms of servicing, Tork's proprietary operating system 'TIROS' will come in handy along with built-in 4G telemetry which will allow the team to offer proactive service. Further, KRATOS offer mobile connectivity showcasing in-app navigation, information on battery levels along with vital details at customer's fingertips.
KRATOS has a range of 120 km and can accelerate (0-40 kmph) within 4 secs along with a max speed of 100 kmph. KRATOS-R comes with acceleration (0-40 kmph) in 3.5 secs and max speed of 105 kmph. KRATOS features a digital instrument cluster, USB charging, crash alert features; and uses regenerative braking for efficient energy consumption. Armed with CBS Hydraulic brake, KRATOS comes with three years of warranty.

KRATOS is available in white whereas the KRATOS-R comes with four colour options in white, blue, red and black. The online booking of KRATOS commences from today and customers can book it online on www.torkmotors.com . The KRATOS and KRATOS-R are available at priceS of INR 1.07 lakh and INR 1.22 lakh (effective ex-showroom Pune post subsidy), respectively.