realme GT NEO 3 which is launching in India on April 29th, has set a new record in DIXOMARK Charging history. realme GT NEO 3 is packed with 150W UltraDart Charge which can charge the phone battery from 0% to 50% in just 5 minutes. DXOMARK has recently evaluated this features of GT NEO 3. According to the latest announcement by realme, their GT NEO 3 has become the Top DXOMARK tested device in terms of charging time, with a 121 charging sub-score. Therefore exceeding the realme GT NEO 2 5G and Apple iPhone 13 Pro Max's charging sub-score at 101 and 73, respectively, as claimed by realme.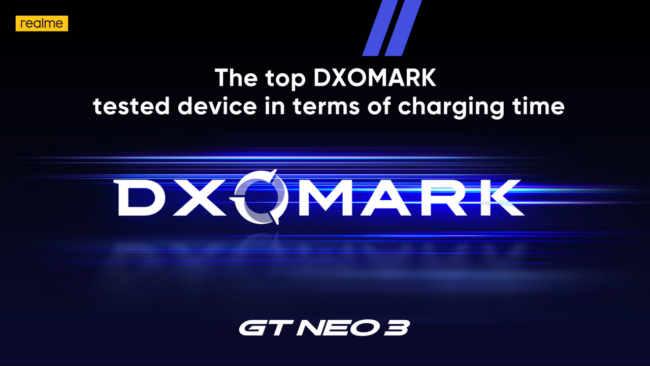 According to realme, GT NEO 3 is equipped with UltraDart Adaptive Dual-chipset, coupled with the new 4:2 high power charging architecture, improving battery charging efficiency and reducing energy loss during charging from the source. Secondly, the higher efficiency customized charge pump also reduces the heat generated during charging, and the lower charging temperature further extends the duration of high power charging and improves the charging speed.
With the new Dual-cell Series Structure, two 2250mAh cells are connected in series inside the battery, equivalent to 4500mAh. Impressively, the Dual-Cell Series Structure design can double the charging power with the same charging current.
By adopting Battery Sense Cell Voltage Detection Technology, the device can accurately detect the voltage of the cells, effectively avoiding errors caused by the battery protection circuit. This allows a more accurate charging strategy during the charging process, making the overall charging time shorter.
In addition to speed, the independent charging chip ensures instant disconnection if it senses a risk to battery health. As a result of 38 security-protective measures, the device has been certified by TUV Rheinland for Safe Fast-Charge System. Therefore, realme GT NEO 3 users don't have to worry about safety while experiencing the thrill of fast charging. Moreover, the dedicated MCU charging security chip is added to the charging circuit, which can directly shut down the 150W charger, in the case of the abnormal charging status.
In terms of battery life, GT NEO 3 uses a durable, fast-charging battery with an effective battery capacity of no less than 80% after 1600 complete charge and discharge cycles, which is twice the industry standard. In the long run, this can greatly reduce the decline in effective battery capacity and ensure the phone's longevity after long-term use.
The 4500mAh battery capacity guarantees longevity, especially in the current 5G environment. In daily use, fast charging supplements the larger battery, and the increase in charging speed empowers the efficiency and utility of the device. GT NEO 3 has opted to prioritize the protection of the larger battery for a durable life span.
GT NEO 3 is claimed to provide complete 3 in1 experience to users: fast, safe, and durable with these outstanding advantages of fast charging.
Stay tuned for more details on 29th April!