USA Pears has celebrated the World Pear Day in India on 1st December with its campaign #PearwithHealth to drive health awareness amongst Indian consumers. On this day, Pear Northwest Bureau organized sampling sessions in Delhi & Mumbai which gave consumers a chance to taste and buy the USA Pears in person and online through samples, games, prizes and more. The consumers actively participated and connected with pear lovers from all over the world by visiting USA Pears on social media (Instagram, Twitter, Facebook).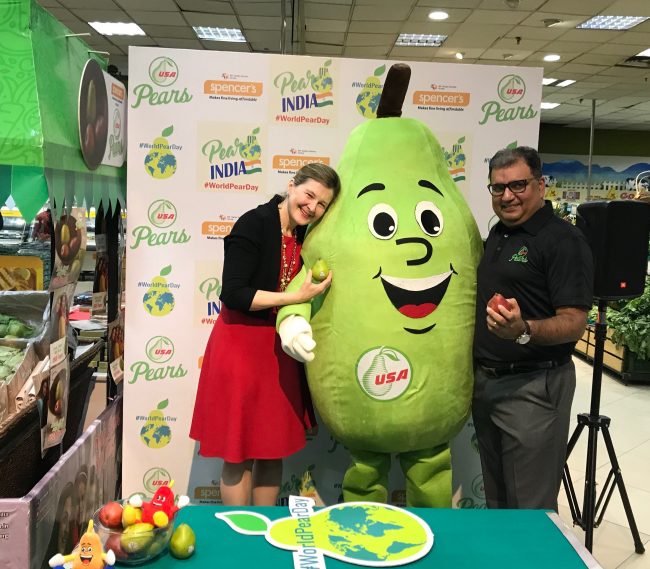 The promotional activities that were held in Mumbai and Delhi complimenting the World Pear Day on December 1 was a huge success as the occasion became the perfect reason for consumers to cheer the arrival of juicy and delightful USA Pears. Recognized worldwide for their superior quality, USA Pears are back in season to introduce the Indian consumers to the freshness and taste of their pears as stated by the organiser in its press statement.
The event at World Pear Day event at Spencer's Hyper Store in Gurgaon was launched by Ms. Jeanne F. Bailey, Minister Counselor for Agricultural Affairs, U.S. Department of Agriculture, U.S. Embassy where USA Pears were sampled all day to consumers. The sampling program at the Store will continue all month.
On the occasion of World Pear Day, Mr. Sumit Saran, Director of SS Associates and India Representative for USA Pears said, "USA Pears perfectly compliment the Indian Pear season. The Indian season ends in September and USA Pears arrive in the market from October giving consumers more choices. Highly nutritional, delightfully juicy and elusively flavored USA Pears add a whole lot of value to ones' physical well-being. Glad to share that these flavorsome fruits will now be available in your nearest retail stores across India. It is our constant endeavor to reach out to maximum consumers in India and introduce them to the freshness and taste of USA Pears."
USA Pears are among the world's finest pears. Grown in Oregon and Washington where the right mix of volcanic soil, clean mountain water and warm spring and summer days, with cool nights, combine to produce some of the world's finest pears. Pears are an excellent source of fibre, providing about 24% of your daily needs. USA Pears contain Levulose, a natural sugar that can satisfy the sweet cravings for everyone, even for diabetics without guilt.
This season, USA Pears have entered India with two varieties of Anjou, both green and red. Also, for the first time a small volume of Starkrimson and Bartlett Pears have been imported into the market.