VU Televisions known for good designed and Smart TVs producer at attractive price range has today launched Pop Smart TV,  Office Smart and Premium Smart TV. These TVs offer integration of technology with content and apps (YouTube, YuppTV, Hungama, Eros and more).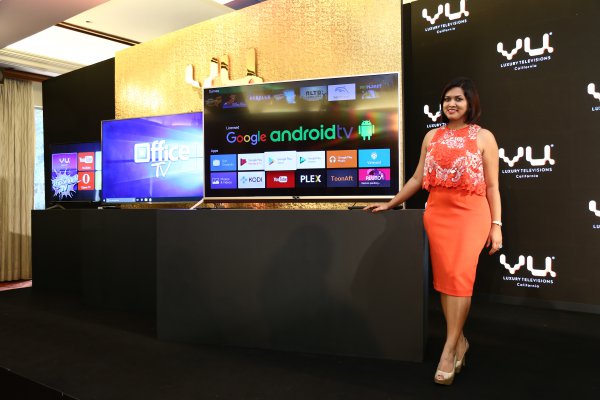 Pop Smart TV: Sizes Available: 49", 43", and 32"
This range is true 'Make in India' initiative and the Pop Smart TV is the first of its kind to support PC casting from Windows and Macbook. Comprising the choices of on-demand channel like Hungama, Eros Now, YuppTV, Ted, Daily Motion and more, Pop Smart enables viewers to share Picture, Video, Music on TV from Android or iOS Mobile. Furthermore, it enables controlling TV function from smart phone and use keyboard function while interacting with browser. The Once Touch Pop Remote control by Vu TV provides pop buttons of favourite apps like YouTube, Browser, App store and Media, making the entire experience completely hassle-free.
Office Smart: Sizes Available: 75", 65", 55", 49"
The Office Smart TV comes with in-built computer and Windows OS for PPT, Excel, Word, Outlook etc. With its wireless and wired network connectivity and 32GB storage, the Office Smart TV allows users to send emails directly to the TV while preparing for meetings or access cloud apps, CRM software, other network files directly from the Office TV.
Premium Smart: Sizes Available: 55", 49", 43", 39", 32"
Empowered with Quad-core Internet Video Processor, the Premium Smart TV is built on the Premium OS, offering the fastest processing speed. Licensed with YouTube & Netflix, the user can press Netflix or YouTube button to turn on the App or push the videos from YouTube on smart phone to the TV to easy viewing.
The Screen Mirroring feature of the Premium range allows users to share life moments on Vu TV. Enabled via Any View cast or DLNA, the TV can then be used to share content from computer, Tablet & smartphone on Wifi or LAN. The screen can be easily synced via Smart Control or DLNA.
Commenting on the launch, Devita Saraf, CEO & Design Head, Vu TV said, "I am excited to announce launch of the new TV series from Vu TV, bringing together unprecedented and immensely required functionalities for today's generation. Vu is at the forefront of innovation in television technology in India and we are proud to present the Indian Youth and Professionals with the most spectacular solutions."
Vu TV has claimed to generate revenue of Rs.500 crore in 2016-17 and has projected revenue of Rs.1000 Crores. Vu is now the #3 brand in India for 4K TVs after Sony and Samsung.
Price List of complete range:
S. No.
Product
Price
PIXELIGHT HDR SERIES
1
H75K700
2,50,000 INR
2
65XT800
1,16,000 INR
3
55XT780
64,000 INR
4
50K310
57,000 INR
5
43S6575
46,000 INR
ICONIUM SERIES
1
55UH7545
64,000 INR
2
55UH7545
50,000 INR
3
55UH7545
42,000 INR
POPSMART SERIES
1
50BS115
44,500 INR
2
43BS112
37,500 INR
3
32S7545
22,000 INR
PREMIUM SMART SERIES
1
55UH8475
60,000 INR
2
49S6575
44,500 INR
3
43D6575
38,500 INR
4
40K16
31,500 INR
5
32D6475
20,000 INR