This is a Sponsored post written by me on behalf of Arcsoft. All opinions are 100% mine.
Whip Social Album is a mobile application, developed by ArcSoft. It is available for download in the iTunes App Store for iPad and iPhone. This free iPad app allows users to quickly create and share beautiful social albums, combining photos, video, text and music. It is also available for Windows 8 tablets and PC and has been recently launched for Android also.
You can quickly and easily blend many photos, video and music to make your own story-line with just a few taps using Whip the App. You can also add some comments in your  album or add a song to it and  then see streams of likes and comments from your friends pouring in.

Through this app, you can give whip to create, customize and share with other whipsters. Just select photos (and a video if you like) from your camera, photo stream, or Facebook and keep it restricted to just 24. You can select your style and background music. Whether it's a special event, or some good old-fashioned Vegas debauchery, this app has got designs to complement your Whip perfectly. With one-touch enhancement tool, your photos can be organised in the best layout, and you can  bring your album to life with any cool "indie" tunes and can add your own fun captions.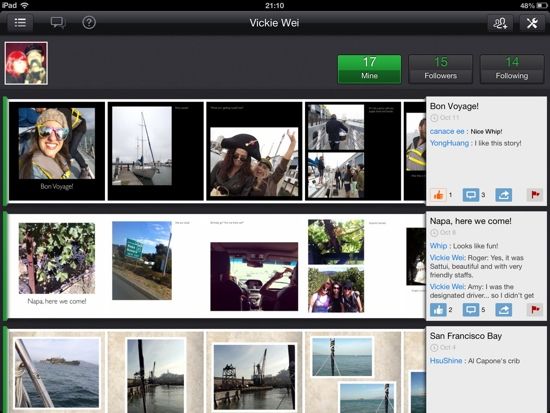 You can also  easily rotate, resize, swap, and enhance individual photos to customize further or add your own special finishing touches. You can share your whip to the whip community and the world via email, Facebook, Twitter or SMS (available on Android only) or post it on WhipStream to incite mass jealousy from the community.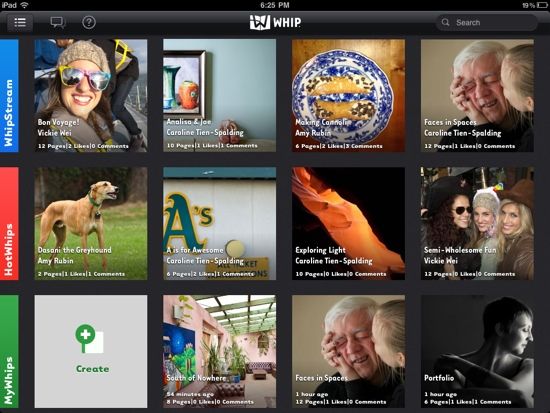 If you are a passionate person and want to share your belief, experience  adventure and  story, in vibrant colors and beautifully designed environment, with the option to combine photos,video and music, then you must use Whip. This app is so great to be used for Christmas, New year celebrations, for a birthday party where you have cooked the most delicious varieties of food/get-together or important events like baby-showers or such other memorable events where photos are must to be seen by your friends across the globe.
One of the best parts about using Whip is being able to interact with other Whipsters directly within the app. Whip lets you discover new things. You can check out the latest concert pics from The Killers and style trends from fashion guru Eva Chen. Follow Whipsters who inspire you, and don't be shy to "like" or comment on Whips that interest you.
Whip the App is very cool and user friendly and you can use with ease on your Android devices, iPad, iPhone and Windows 8 phone.
Whip Social Album for iPad from Whip Social Album on Vimeo.