Are you trying to record and produce your own business videos? If you are then it is important that you start to familiarize yourself with your video editing software and learn how to use it to improve your videos.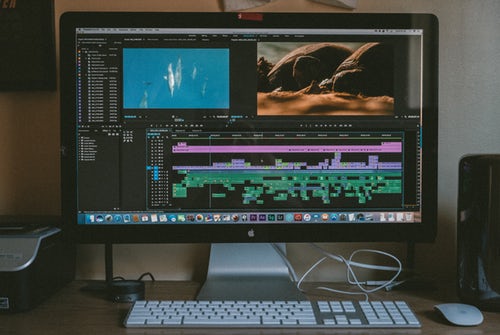 Although that may seem difficult at first, there are several easy and beginner-friendly ways that you can start to edit your business videos:
Use color correction to make the colors consistent
Color correcting your video footage is always a good first step before you make any other changes to them. Not only will it let you fix any issues with the color balance of your videos, but it will make them look most consistent when you join clips together.
In most software there is normally an automated color balance tool that you can use as a starting point. From there you can make further improvements and fine tune the colors using the manual settings.
Stabilize any shaky video footage
As hard as you may have tried to keep your camera steady while recording your business video – some parts may still be a bit shaky. That can be tidied up using the software stabilization feature that is in most editors.
Generally the feature itself should be automated, though there may be a setting that you can adjust based on how shaky your video is. It may take a bit of experimenting, but your video should look a lot smoother by the time you're done.
Keep in mind that there are limits to what software stabilization can achieve, and if your video is too shaky there isn't that much that can be done about it.
Crop the video to adjust its frame
Arguably one of the easiest yet most powerful ways to edit your business video is to crop it so that you can adjust its frame. It will come in useful – especially if you want to alter the aspect ratio of your video so that you can optimize it for different platforms. On top of that cropping your video will enable you to adjust its composition. One easy way to take advantage of that is to use the rule of thirds as a guide when you crop your video.
If you want an easy way to edit your business videos you should definitely try Movavi Video Editor. It will let you quickly learn how to crop videos, stabilize them, enhance their quality, fix issues, add background music, and cut and join videos together. In short it will have everything you need to edit and produce impressive business videos.
Ideally you should think of the list above as a starting point when you edit your business videos. It will let you make quick yet important changes that improve your videos by leaps and bounds.
Subsequently you can take your time to explore the other features in your video editor and experiment with them. If you're able to fully familiarize yourself with your editing software, you should have no trouble creating professional-looking business videos of your own.