ACT Fibernet today launched ACT GIGA in Delhi which comes with assured 1 Gbps speed (Giga speeds, 1000 Mbps) and unlimited data limit for Rs. 1999 per month. They have also introduced a new plan ACT Welcome for Rs. 549 with 50 Mbps speed and unlimited data limit. The new plans will be available to customers from 30th November 2021.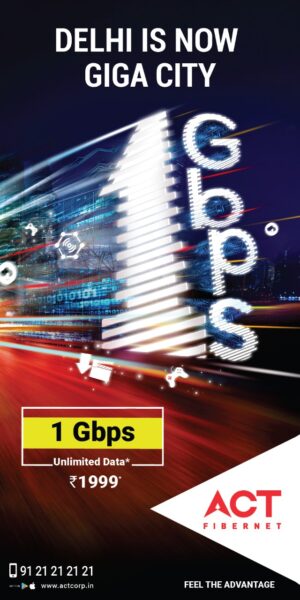 ACT Fibernet is a pioneer of GIGA speeds in India launching GIGA for the first time in India in Hyderabad in 2017. Since then GIGA is available across multiple cities with ACT Fibernet. GIGA Speeds will ensure that heavy usage customers are able to get seamless connectivity for all their daily internet needs.
ACT Fibernet is powered by revolutionary new Smartfiber technology which creates VIRTUAL dedicated speed lanes, ensuring that a customer gets his plan speeds 24*7. This technology advancement has helped ACT Fibernet in being recognized as DELHI's Fastest Wired broadband provider based on analysis by Ookla of Speedtest Intelligence data for average download and upload speeds. With the launch of GIGA plan, customers can be assured that they will get full 1 Gbps speeds to download and 1 Gbps speeds at upload.
Details of all plans for Delhi:
| | | | |
| --- | --- | --- | --- |
| Plan | Monthly Rental | Speed | Data |
| ACT WELCOME | 549 | 50 Mbps | Unlimited Data* |
| ACT Silver | 799 | 150 Mbps | Unlimited Data* |
| ACT Platinum | 1049 | 250 Mbps | Unlimited Data* |
| ACT Diamond | 1349 | 300 Mbps | Unlimited Data* |
| ACT GIGA | 1999 | 1 Gbps | Unlimited Data* |
(About unlimited data, please visit actcorp.in/unlimited for more details)