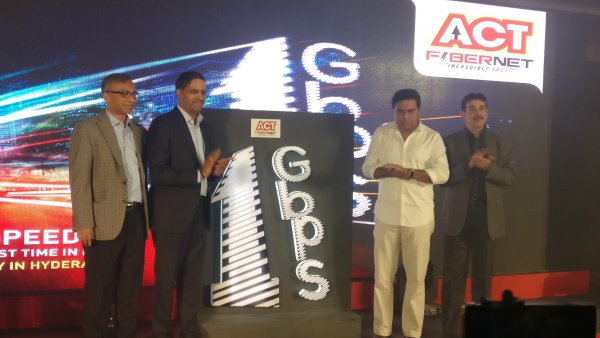 ACT Fibernet, India's largest non-telco and 3rd largest Internet Service Provider today has become the first company to provide 1Gbps (Giga speeds) wired broadband internet service. To start with, the company has launched 1 Giga speeds wired broadband internet service in the city of Hyderabad. This service is currently available in Hyderabad for Rs. 5999 per month for 1 Gbps , 1TB FUP. The 1 Gbps wired internet service is slated to be available soon in the 11 cities the company has presence in.
This 1 Gbps service was launched today in an event in Hyderabad in the presence of Shri. K. Taraka Rama Rao, Minister for IT, Municipal Administration and Urban Development and Industries (MAUD). This launch will not only provide internet connections at incredibly high speeds, but will disrupt and lead technological growth in the country.
To provide 1Gbps wired internet service is great achievemnt on the part of ACT Fibernet when an average internet speeds in India is 2.5 Mbps and this launch will leapfrog Hyderabad internet speeds to 400x national average.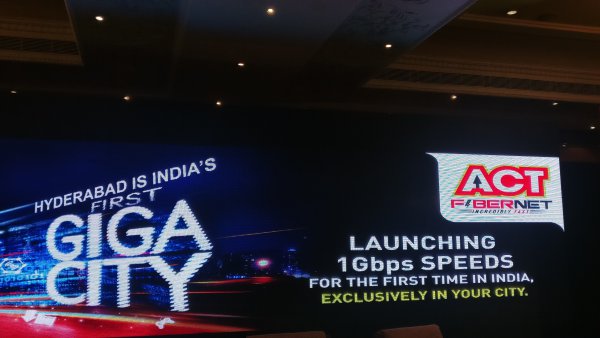 This launch has put ACT Fibernet, Hyderabad and India on the international map also as very few cities across the world boast of being 'Giga enabled' cities. This futuristic technology will allow downloads from the internet faster than transferring data from a USB drive. I have seen today at the launch event one 3.5GB movie being downloaded on 1Gbps speed in just 35 seconds and this speaks volumes about the usefulness of this service.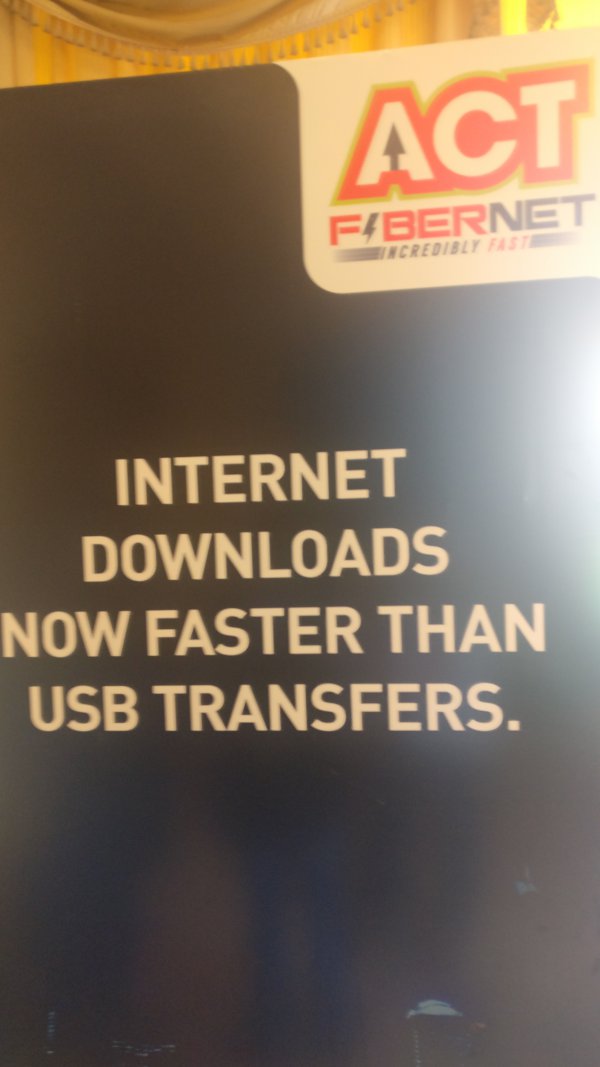 ACT Fibernet has the best global fiber optic technology and implementation of this service with existing subscribers would not pose any problem as it was informed during the launch event and their existing infrastructure is future ready.
ACT Fibernet is the largest broadband provider in twin cities of Hyderabad and Secunderabad with over 65% market share. Growing at an incredible rate, ACT Fibernet is known to be a speed pioneer in the broadband industry.
This launch will also give boost to Government of India's Digital Mission as  the government has recently announced to provide high-speed broadband via optic Fiber to 1,50,000 gram Panchayats. This initiative of ACT Fibernet will definitely contribute to the country's digital growth.
Speaking on the launch Mr. Bala Malladi, CEO, ACT Fibernet said, "With our citizens and the government moving towards the Digital India movement, high speed internet is the need of the hour. With the launch of our 1 Gbps broadband internet service, it gives me immense pride to turn this dream into reality. The city of Hyderabad is apt for our maiden launch as it has some of the best technology brands, educational institutions and a vibrant economy."