ACT Fibernet, India's largest fiber-focused wired broadband Internet Service Provider, today announced its partnership with Flipkart to offer Fiber broadband plans to smart TV buyers on the Flipkart platform.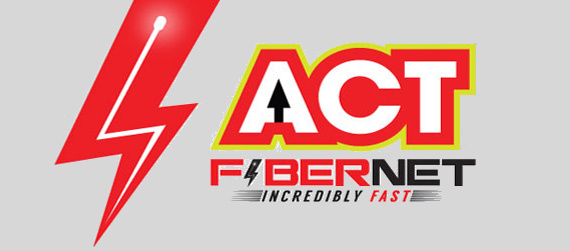 For super-fast internet broadband speed, ACT Fibernet has launched the 'smart tv ka smart choice' plan. As part of this, customers purchasing any smart TV on Flipkart will be able to enjoy exciting offers and discounts on the company's internet broadband plans.
ACT Fibernet will offer every eligible customer, upon purchase of a 6 months subscription, two months free internet subscription with an additional 1500 GB data and a free wireless router. This offer is valid on all Smart TV purchases made on Flipkart beginning 3rd September 2018 to 30th November 2018 across all 15 cities where the company has presence.
Procedure to Avil the offer:
Customer to provide proof of purchase – Flipkart Order ID, Flipkart Invoice date along with Name, Mobile, Email, Complete Address on ACT website https://www.actcorp.in/flipkart-offer
ACT Fibernet to verify the purchase with Flipkart and outcall the customer, confirm the offer, check for feasibility in customer location and proceed with installation
ACT Fibernet to provide new connection within a period of 10 working days
Existing customers of ACT Fibernet are also eligible for the upgrade sans the router
Offer to be redeemed before 31st December 2018
Customer is also free to choose any other offer from ACT Fibernet that is currently available in their respective market
Details of Plans of ACT Fibernet available in various cities:
City
Plan
Monthly rental in Rs.
Speed
Data
Bangalore
ACT Storm
1,159
100 Mbps
350 GB
ACT Lightning
1,399
125 Mbps
500 GB
ACT Incredible
1,999
150 Mbps
800 GB
Delhi
ACT Platinum Promo
999
150 Mbps
1000 GB
Chennai
ACT Blaze
999
100 Mbps
500 GB
ACT Storm
1,099
125 Mbps
1250 GB
ACT Lightning
1,299
150 Mbps
1500 GB
ACT Thunder
1,499
200 Mbps
1750 GB
ACT Incredible
1,999
250 Mbps
2000 GB
Hyderabad
A-Max 1050
1,050
100 Mbps
750 GB
A-Max 1299
1,299
150 Mbps
1000 GB
ACT Incredible
1,999
200 Mbps
1500 GB
Coimbatore
ACT Sprint
999
100 Mbps
350 GB
ACT Race
1,099
100 Mbps
500 GB
ACT Zoom
1,299
125 Mbps
750 GB
ACT Bolt
1,499
150 Mbps
1000 GB
Eluru
ACT Gold
999
60 Mbps
400 GB
ACT Diamond
1,499
100 Mbps
600 GB
Guntur
ACT Gold
999
60 Mbps
400 GB
ACT Diamond
1,499
100 Mbps
600 GB
Kakinada
ACT Diamond
999
60 Mbps
400 GB
ACT Platinum
1,499
80 Mbps
600 GB
Madurai
ACT Gold
799
100 Mbps
300 GB
Nellore
ACT Platinum
999
75 Mbps
500 GB
ACT Titanium
1,449
90 Mbps
750 GB
Rajahmundry
ACT Diamond
999
60 Mbps
400 GB
ACT Platinum
1,499
80 Mbps
600 GB
Tirupati
ACT Diamond
999
75 Mbps
500 GB
Vijayawada
ACT Gold
999
60 Mbps
400 GB
ACT Diamond
1,499
100 Mbps
600 GB
Visakhapatnam
ACT Diamond
999
100 Mbps
800 GB
ACT Platinum
1,499
100 Mbps
1500 GB
Vizianagaram
ACT Diamond
999
100 Mbps
800 GB
ACT Platinum
1,499
100 Mbps
1500 GB
Warangal
ACT Rapid
999
100 Mbps
800 GB