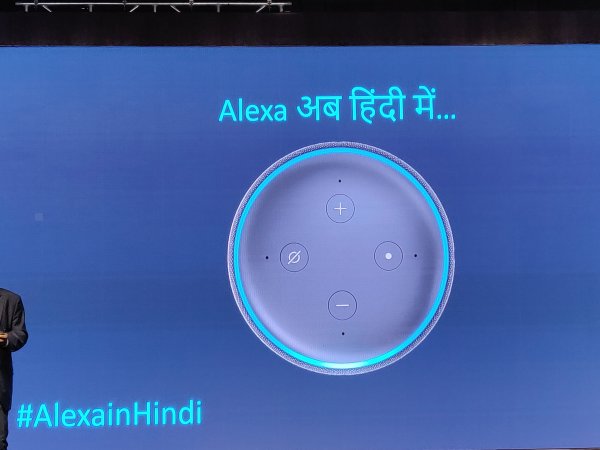 After launching Alexa in India with English language support in 2017, Amazon has today annoucned Hindi and Hinglish support for the benefit of India users who are more comfortable in communicating in Hindi. Now Alexa customers in India can interact with Alexa to ask for music, get Bollywood or sports updates and much more in Hindi or Hinglish. Alexa is the brain that powers Amazon Echo devices. The new Hindi experience is available on all Echo family of voice-controlled smart speakers.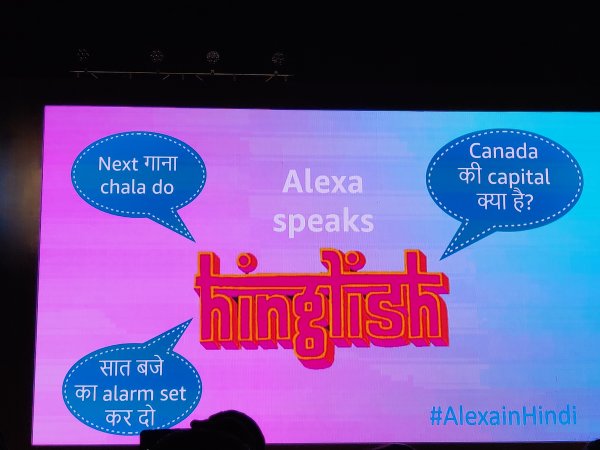 With this update, Alexa can now understand customers speaking to her completely in Hindi or Hinglish, in multiple contexts, and varied regional accents and dialects. You can enjoy asking Alexa for diverse Hindi content such as jokes, shayaris, games, Kabir ke dohe, Panchatantra stories, Bollywood dialogues, more than 500 Alexa skills, and even spellings of words in Hindi.
To get started with Hindi, customers can just ask, "Alexa, help me set up Hindi." Existing Echo customers in India can change their device language to Hindi via the Language options inside the Device settings on the Alexa App. Echo Show users can access the settings section to change the language by swiping down from the top of the screen.
Coming soon, customers can speak to Alexa in Hindi and English without changing the language setting back and forth. For example, if a customer asks for the weather in Hindi, Alexa will reply in Hindi, e.x. "Alexa, aaj mausam kaisa hai?"  and when they ask for information in English, Alexa will understand and respond in English e.x. "Alexa, tell me about Chandrayaan-2". This feature is specially built for Indian households where users speak both Hindi and English.
Alexa offers a seamless, hands-free music  experience with premier music services including Amazon Prime Music, Gaana, Hungama, JioSaavn, TuneIn, and more. Listening to music across a wide catalog of Hindi, English and multiple Indian regional language songs with Alexa is as simple as saying "Alexa, Bollywood ke latest gaane sunao" or "Alexa, Kishore Kumar ke gaane sunaiye". If you are in the mood to exercise, say "Alexa, workout music chalao" . Control volume and playback for millions of songs by saying "Alexa, volume badhao"  or "Alexa, agla gaana lagao".
Alexa is now more Indian. Her fun personality can entertain everyone in the family. You can ask Alexa for a joke by saying "Alexa, chutkula sunao". You can also say "Alexa, koi filmy dialogue sunao", "Alexa seeti bajao", "Alexa taali bajao",  "Alexa, ek kahani sunao", or "Alexa, tum kaun ho".
For smart home, you can say "Alexa, light band kar do" or "Alexa, Geyser on karo" or "Alexa, TV mute karo". Alexa works with devices such as smart lights and plugs from brands including Wipro, Philips Hue, SYSKA LED, Xiaomi, TP-Link, and more. You can also control your compatible security cameras, fans, ACs and air purifiers from brands such as D-Link, Voltas, Orient, LG, Xiaomi and more. 
Alexa can read the news and give customized updates based on your news preferences. You can choose your favorite outlets to provide the news or sports results, including Dainik Jagran, Aaj Tak, NDTV, and Bollywood Hungama. Just say "Alexa, kya chal raha hai?", "Alexa, filmy khabrein sunao", "Alexa, cricket score batao", or "Alexa, India ka agala match kab hai?".
Thousands of developers have already started building Alexa skills with a Hindi flavor. Customers can choose from over 500 Alexa skills in Hindi offered by more than 30 brands including Ola, ChuChu TV, GaneshaSpeaks, All India Radio, RedFM,  Sanjeev Kapoor Recipes, Pearsons, Career Launcher, Art of Living, Sadhguru, VR Devotee, Shemaroo, Hungama, Hubhopper, Aastha TV and Amar Chitra Katha.
Alexa in Hindi is also available on a range of smart speakers by Bose. These include Home Speaker 500, Portable Home Speaker, Home Speaker 450, and Home Speaker 300. Coming soon, brands such as Motorola, MyBox, Boat, Portronics, Fingers, Sony, iBall and Dish will launch and update their existing Alexa-built in devices to support Hindi.