Amazon has introduced new line-up of Echo devices comprising of All-new Echo featuring an updated fabric design and premium sound, for the same price as previous generation Echo at Rs. 9,999; Echo Dot with clock at Rs. 5,499 and Echo Studio for Rs. 22,999.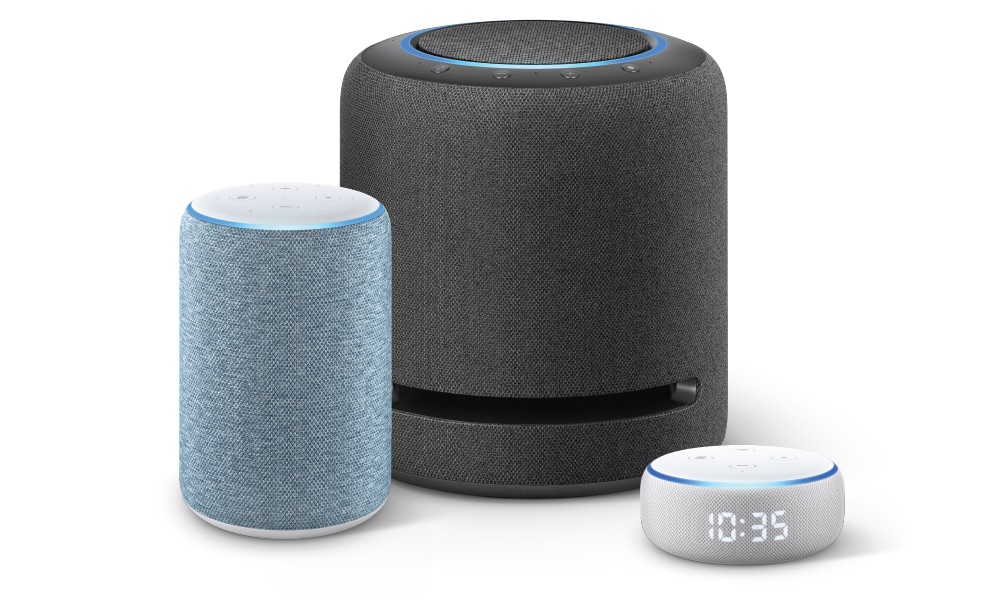 The next-generation all new Echo has the same audio architecture as Echo Plus, including a 3-inch woofer and increased back volume so that the bass gets stronger. It also features an updated fabric design with color options of Blue (new), Black, Grey and White.
Echo Dot with clock new variant now comes with a bright LED display that makes it the perfect addition to a bedside table or kitchen counter. The LED display automatically adjusts based on the brightness of the room, so you can easily see the time or just ask to see the outdoor temperature, or to set a morning alarm or cooking timer. Plus, you can tap the top of the device to conveniently snooze an alarm.
Echo Studio comes with Dolby Atmos, can be paired with Fire TV Stick 4K for audio playbac. It has room adaptation technology and a built-in smart home hub.
It has five built-in directional speakers to create studio-quality sound with space, clarity, and depth. It has 5.25-inch woofer and 330W of peak power which is capable of producing deep, rich bass by using the bass port at the bottom to maximize airflow and bass output from the woofer. Echo Studio has a 1-inch tweeter and three 2-inch midrange speakers that deliver dynamic midranges and crisp, high frequencies. Plus, it has a 24-bit DAC and a power amplifier with 100 kHz of bandwidth for high-res, lossless music playback. Echo Studio also automatically senses the acoustics of your space and fine-tunes audio playback to deliver optimal sound—no matter where you put the device in the room.
The Echo Studio smart speaker delivers an immersive audio experience using advanced processing from Dolby Atmos. Echo Studio also has a built-in Zigbee smart home hub which can be used to control compatible smart home devices.
The all new Echo, Echo Dot with clock, and Echo Studio devices are available for pre-order on Amazon.in and select offline stores starting today and will start shipping later this year. Customers who pre-order can avail of a smart bulb at no extra cost and a smart plug at Rs. 199 only.
The new devices announced today join Echo Dot, Echo Plus, Echo Show, Echo Show 5, and Echo companion devices – Echo Sub, Echo Link, Echo Link Amp – to create the Echo family of devices.