ASUS has announced Vivobook 13 Slate OLED which is world's first 13.3-inch Windows detachable laptop. This laptop has a detachable full-size keyboard and a cover stand that has a 170° hinge. It also has a high-precision ASUS Pen 2.0 stylus which is neatly stored in a handy magnetic pen holder for easy access. This laptop can be used in landscape or portrait mode, with or without a keyboard, so writing, typing, or watching at any angle in any environment is effortless.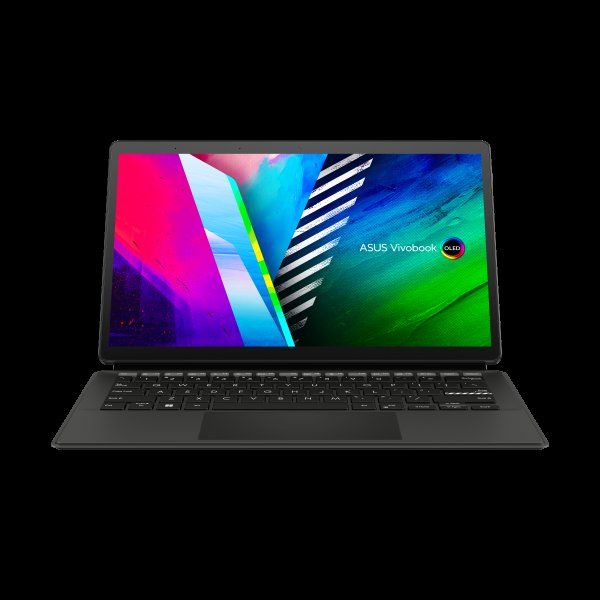 The Vivobook 13 Slate OLED comes with 13.3-inch OLED Dolby Vision touchscreen which is capable of displaying 1.07 billion colors and has a 16:9 widescreen aspect ratio. Its OLED display has a fast 0.2-millisecond response time, and it offers much better eye protection. This laptop is packed with powerful quad-speaker Dolby Atmos sound system. For connectivity, its ultrafast WiFi 6 is enhanced by ASUS WiFi Master technology for more stable, more reliable connectivity.
For creativity, the ASUS Pen 2.0 is Microsoft Pen Protocol 2.0-compliant and once stylus is out of its magnetic holder, it is ready to write, draw or annotate with its 4096-level pressure sensitivity, 5-350 gram pen-tip force and 266 Hz sampling rate. The four interchangeable pen tips have different textures that mimic 2H, H, HB and HB pencils, providing a truly natural feel for sketching and drawing. Charging is easy via any USB-C charger, and when paired via Bluetooth the shortcut button provides intuitive one-click functions, such as taking screenshots or navigating to the next page of a presentation.
This laptop is powered by the Quad-core Intel Pentium Silver N6000, up to 3.3 GHz Intel processor and is combined with upto 256 GB PCIe Gen 3.0 x4 SSD and up to 8GB of fast LPDDR4X RAM. The Intel Bridge technology allows any Android appi to run on Windows 11, opening up a whole new world of productivity and entertainment. This laptop has two USB-C ports, an audio jack, and a microSD card reader. There is an optional fingerprint sensor on the power button. This laptop is packed with long-lasting 50 Wh battery and with USB-C Easy Charge, it can be charged from a power bank or almost any USB-C charger which can charge it to 60% in as little as 39 minutes.
The Vivobook 13 Slate OLED is equipped with 5 MP camera at the front for clear video calls, and a 13 MP rear camera.
In addition to the standard model, Vivobook 13 Slate OLED will also soon be available in two exclusive Artist Editions. Available in early 2022, the Artist Editions are designed in collaboration with artists Steven Harrington and Philip Colbert. Steven Harrington is a Californian contemporary artist, and his Artist Edition offers a unique design inspired by his quirky art pieces. The Philip Colbert Artist Edition is a surrealist take by this London-based contemporary artist.
All special editions include a special cover stand, wallpaper, a special box, a sleeve, a keyboard, a hard cover case and keyboard stickers. The Philip Colbert Artist Edition also comes with a pair of limited-edition shoelaces. Every standard edition Vivobook 13 Slate OLED comes bundled with a keyboard, cover stand, and ASUS Pen 2.0.