ASUS India, Republic of Gamers (ROG) has expanded its ROG portfolio with the addition of five new models to the ROG and TUF Family. The refreshed lineup includes the Flow Z13 ACRONYM Edition, TUF A16 Advantage Edition, Zephyrus G16, and Strix G16/18 which have features of best gaming displays and an incredible cooling solution.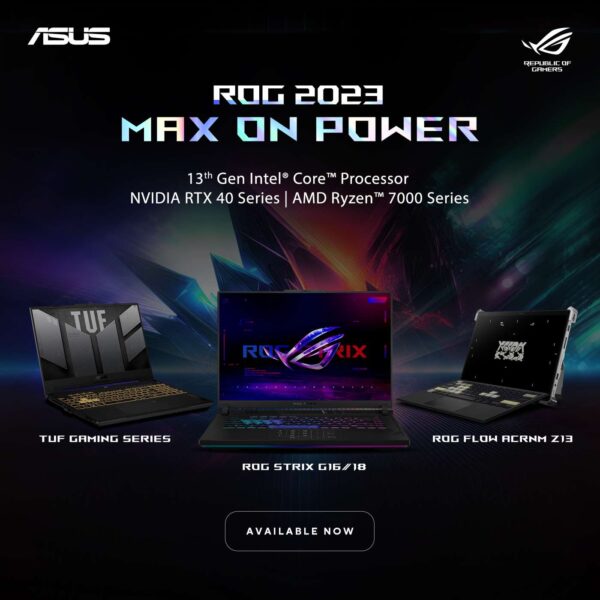 The new lineup comes with all-new CPUs and GPUs to offer maxed out horsepower in a stylish yet durable package. In addition, ASUS ROG also upgraded its Flow X/Z, TUF A15/17, TUF F15/F17, Zephyrus G14 and Strix G17 series to take the gaming experience to the next-level and bolster productivity. The new line-up presents casual gamers, gaming enthusiasts and professional gamers with an array of personalized options to choose from to match their style.
The ROG Strix series will be available at the starting price of INR 1,44,990, the TUF series will be available at the starting price of INR 1,29,990, the Flow series will be available at the starting price of INR 1,74,990 and the Zephyrus series will be available at the starting price of INR 1,49,990, both on online and offline channels.
ROG Strix G16 & G18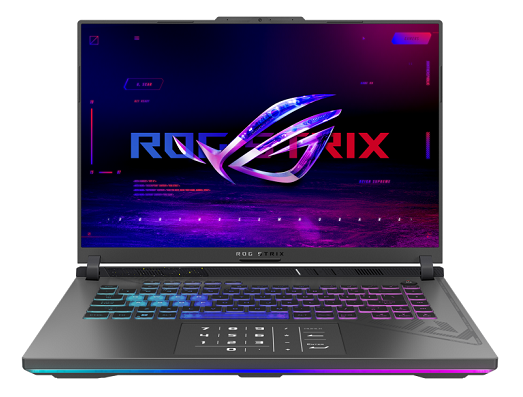 The Strix G16 and G18 comes with new 16″ and 18″ larger screens while preserving the same small 15- and 17-inch footprint in a new chassis that suits all gamer's needs. The design is inspired by athletics, giving it a bold, sporty, and vivid appearance. It is equipped with latest Intel 13th Gen Core Processors based on Intel 7 process (10nm) and features Intel new hybrid architecture with Performance and Efficiency Cores. Powered packed with the latest NVIDIA RTX 40 series of laptop graphics. The Strix G 16/18 includes a professional esports-quality keyboard built to secure the win. As always, the Scar comes with artful Aura Sync accents to illuminate your creativity. The 2023 Strix G 16/18 operates cool and quiet thanks to ROG Intelligent Cooling Ecosystem for optimized performance.
Flow Z13 Acronym
The new Flow Z13 from ROG and ACRONYM comes with an Intel Core i9-13900H processor, NVIDIA GeForce RTX 4070 Laptop GPU. The Flow Z13 ACRONYM revolutionizes the concept of compact portability with robust chassis, stabilized grip and integrated carry system. With a fully detachable full-sized keyboard and USB-C power delivery, it allows you to stay comfortable and productive wherever you go. It comes with 170 degrees of kickstand adjustment to transform it into a traditional laptop form factor in landscape orientation. The same kickstand can also be used when the machine is in portrait orientation. The Z13 ACRONYM operates cool, thanks to the ROG Intelligent Cooling Ecosystem. Additionally, it supports multiple input types and boosted graphics power with an XG Mobile external GPU. It comes with Dolby Vision, and a 16:10 aspect ratio touchscreen display with 165Hz refresh rate panel, with DCI-P3 100%, 3ms response time with Adaptive Sync.
ROG Zephyrus G16
The brand-new Zephyrus G16 boasts an Intel Core i9 13900H CPU and up to an NVIDIA GeForce RTX 4060 Laptop GPU with a MUX Switch and NVIDIA Advanced Optimus. The G16 also comes equipped with its very own Nebula Display, a 16-inch QHD+ 240Hz panel with sharp colors and clarity. The Zephyrus G16 lets you game anywhere with a substantial 90Wh battery, and an incredibly versatile 180° ErgoLift hinge. The six speakers offer engrossing surround sound powered by Dolby Atmos and 3D Mic Array makes voice audio capture a breeze. Plentiful storage, expandable memory, Thunderbolt 4 support, and rich I/O connectivity make the G16 the perfect traveling companion. Moreover, the Dual Arc flow fans technology and six heat pipes keep the CPU, GPU and VRMs cool.
TUF A16 Advantage Edition
ASUS TUF Gaming A16 Advantage Edition features the latest AMD Ryzen 9 7940HS Mobile Processor with AMD Smart Access Graphics and AMD Dynamic Switchable Graphics. It has slimmer bezels, a 90% screen-to-body ratio, and Full HD resolution panel, 165Hz refresh rate with 100% sRGB coverage. It also comes with dual 84-blade fans with ARC Flow design and up to seven heat pipes, plus four exhaust vents that efficiently push heat out of the system. ROG's new military-inspired Sandstorm paint and a large 90Whrs battery are built right into this rugged chassis. Dolby Atmos support ensures gamers get the most out of soundtracks and music, and Two-Way AI Noise Cancelation ensures clear communications in any scenario.
ROG Flow X13
The upgraded Flow X13 is Ultra slim 13" with 1.3kg chassis laptop. It is packed with the latest 4nm Ryzen 9 7940HS CPU with Phoenix architecture. Optional XG Mobile eGPU boosts graphics on demand with up to an NVIDIA RTX 4090 mobile GPU. It comes with High resolution QHD+ panel with high 165Hz refresh rate. The display is touch-enabled as well and outfitted with Scratch-resistant Gorilla Glass DXC touchscreen with MPP 2.0 stylus support. The X13 has a 360-degree hinge and a multitude of four different viewing configurations. The one-touch power on and Full HD Camera upgrade with Windows Hello Face Unlock, allowing you to login 4x faster and more securely than a password.
ROG Flow Z13
It comes with up to a 14-core Intel Core i9-13900H CPU and up to a GeForce RTX 4060 Laptop GPU, all wrapped in just 1.18 Kg. For added performance, you can always connect to the ultra-powerful NVIDIA RTX 4090 powered XG Mobile. The 2-in-1 form factor that Z13 comes with, dramatically increases airflow efficiency. The 13 inch touch screen display comes with 16:10 aspect ratio and Gorilla Glass 5 protection with QHD+ 165Hz ROG Nebula display panel with 500 nits peak brightness which helps in super-smooth gaming.
TUF A15/17
The refreshed TUF A15 & A17 is a high-performance 15″ and 17″ gaming device designed for both gaming enthusiasts and casual gamers. It comes equipped with latest AMD Ryzen R9 7940HS Processor with Radeon Graphics (8 cores/16 threads) and with up to NVIDIA RTX 4060 graphics at 140W max TGP. This pairing of high-powered CPUs and high-performance mobile combines to deliver incredible gaming performances in all the latest titles. The Adaptive-Sync allows one to keep up with either a QHD 165Hz or FHD 144Hz panel. It also features the MUX Switch with NVIDIA Advanced Optimus support that can reduce latency and boost performance by 5-10% on average. The machine is armed to handle a high-power CPU with a pair of 84-blade Arc Flow Fans that ensures up to 13% more airflow. The new design has the dual benefit of increasing pressure while reducing turbulence, improving cooling performance without the extra noise. Even when playing the most intensive games, the TUF series retains its coolness. Furthermore, when combined with the power-efficient AMD processor, the 90Whrs battery enables up to 12.5 hours of online browsing and up to 12 hours of movie playback, with quick charging technology restoring the machine to 50% charge in just 30 minutes.
TUF F15/17
Reinforced by the signature military-grade durability that defines the TUF Gaming family, the advanced F15 and F17 are designed for users looking for a robust gaming device on the go. The latest Intel Core i9-13900H Processor along with up to NVIDIA GeForce RTX 4060 GPU, the TUF series is ideal for gaming.These laptops also have an included MUX switch, for a competitive advantage in games. From gaming to content creation, this laptop got all the charms to handle any kind of intense workload. In comparison to the TUF keyboard from 2022, the new flipped mini-LED backlighting mechanism is more precise, guarantees more uniform lighting, and uses less energy overall. With 4.6mm bezels that are incredibly thin, the display area has an 80% screen-to-body ratio. For the convenience of the user, a 720p and an integrated microphone array are located on the top bezel. The machine enables users to level up their multitasking abilities by connecting a second monitor via the Thunderbolt. Additionally, the dual speakers now feature Dolby Atmos support and Hi-Res Audio certification, resulting in a high-fidelity audio experience.
Zephyrus G14
The Zephyrus G14 is a portable powerhouse, designed to cover all of users' daily needs, from gaming to content creation, featuring 18.5mm Mg-Al chassis and weighs starting at 1.65kg without AniMe Matrix. It houses latest AMD Ryzen 7000 series Processor with NVIDIA RTX 4000 series Graphics with a MUX Switch and NVIDIA Advanced Optimus. Matching the performance is a new QHD+ Nebula display, running your games at 165Hz fast refresh rate with a peak brightness of 500 nits and 100% coverage of the DCI-P3 color space for vivid and immersive content. Gamers can opt for models with the iconic AniMe Matrix panel to make their laptops truly one of a kind. The Zephyrus G14 now features a taller 16:10 aspect ratio to accommodate more content on users' screens. The cooling is better than ever, in part thanks to the newly added Vapor Chamber with 50% more motherboard area coverage compared to the heat pipe design and the use of liquid metal on both the processor and the GPU.
Price and Availability
| | | |
| --- | --- | --- |
| Model | Starting Price (INR) | Platforms |
| ROG TUF F15 | INR 1,15,990 | Online: ASUS e-shop/ Flipkart/AmazonBrand Store: ASUS Exclusive Stores/ ROG StoresMulti-Brand Retailers: Croma/Vijay Sales/Reliance Digital & all ASUS authorized dealers |
| ROG TUF A15 | INR 1,05,990 | Online: ASUS e-shop/ Flipkart/AmazonBrand Store: ASUS Exclusive Stores/ ROG StoresMulti-Brand Retailers: Croma/Vijay Sales/Reliance Digital & all ASUS authorized dealers |
| ROG TUF A17 | INR 1,34,990 | Online: ASUS e-shop/ Flipkart/AmazonBrand Store: ASUS Exclusive Stores/ ROG StoresMulti-Brand Retailers: Croma/Vijay Sales/Reliance Digital & all ASUS authorized dealers |
| ROG TUF Gaming A16 Advantage Edition | INR 1,39,990 | Online: ASUS e-shop/ Flipkart/AmazonBrand Store: ASUS Exclusive Stores/ ROG StoresMulti-Brand Retailers: Croma/Vijay Sales/Reliance Digital & all ASUS authorized dealers |
| ROG Strix G18 | INR 1,69,990 | Online: ASUS e-shop/ Flipkart/AmazonBrand Store: ASUS Exclusive Stores/ ROG StoresMulti-Brand Retailers: Croma/Vijay Sales/Reliance Digital & all ASUS authorized dealers |
| ROG Strix G16 | INR 1,44,990 | Online: ASUS e-shop/ Flipkart/AmazonBrand Store: ASUS Exclusive Stores/ ROG StoresMulti-Brand Retailers: Croma/Vijay Sales/Reliance Digital & all ASUS authorized dealers |
| ROG Strix G17 | INR 1,59,990 | Online: ASUS e-shop/ Flipkart/AmazonBrand Store: ASUS Exclusive Stores/ ROG StoresMulti-Brand Retailers: Croma/Vijay Sales/Reliance Digital & all ASUS authorized dealers |
| ROG Flow X13 | INR 1,74,990 | Online: ASUS e-shop/ Flipkart/AmazonBrand Store: ASUS Exclusive Stores/ ROG StoresMulti-Brand Retailers: Croma/Vijay Sales/Reliance Digital & all ASUS authorized dealers |
| ROG Flow Z13 | INR 2,09,990 | Online: ASUS e-shop/ Flipkart/AmazonBrand Store: ASUS Exclusive Stores/ ROG StoresMulti-Brand Retailers: Croma/Vijay Sales/Reliance Digital & all ASUS authorized dealers |
| ROG Flow Z13 ACRONYM | INR 284990 | Online: ASUS e-shop/ Flipkart/AmazonBrand Store: ASUS Exclusive Stores/ ROG StoresMulti-Brand Retailers: Croma/Vijay Sales/Reliance Digital & all ASUS authorized dealers |
| ROG Zephyrus G14 | INR 1,49,990 | Online: ASUS e-shop/ Flipkart/AmazonBrand Store: ASUS Exclusive Stores/ ROG StoresMulti-Brand Retailers: Croma/Vijay Sales/Reliance Digital & all ASUS authorized dealers |
| ROG Zephyrus G16 | INR 1,69,990 | Online: ASUS e-shop/ Flipkart/AmazonBrand Store: ASUS Exclusive Stores/ ROG StoresMulti-Brand Retailers: Croma/Vijay Sales/Reliance Digital & all ASUS authorized dealers |
| ROG XG Mobile – RTX 4090-16GB | INR 201,990 | Online: ASUS e-shop/ Flipkart/AmazonBrand Store: ASUS Exclusive Stores/ ROG StoresMulti-Brand Retailers: Croma/Vijay Sales/Reliance Digital & all ASUS authorized dealers |