It is golden opportunity to buy latest iPhones, Android smartphones, laptops and electronic producs from Paytm Mall as they are holding the year-ending 2017 Grand Finale Sale till December 15, 2017. Paytm Mall 2017 Grand Finale Sale includes offers, cashbacks, and discounts on a range of smartphones and tablets, including the iPhone X, iPhone 8, Samsung Galaxy S7 and Vivo V7+ among others.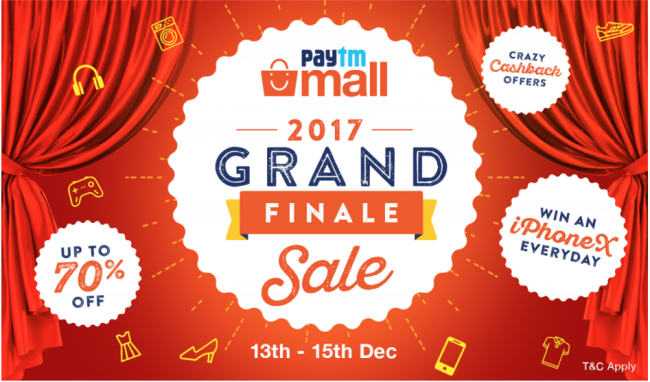 Paytm Mall has listed offerings from all the major Smartphone and Tablet brands, such as Apple, Lenovo, Motorola, Xiaomi, Zopo, Vivo, OPPO, Intex, and Micromax with up to Rs. 15,000 Cashback.
Among Smartphones, the iPhone X 64GB is selling with a cashback of Rs. 4,000, the iPhone 8 64GB at a cashback worth Rs. 7,500. The iPhone 7 32GB is available for Rs. 44,599 that can be further reduced to an effective price of Rs. 38,349 after a cashback worth Rs. 6,250. The Samsung Galaxy S7 is available at Rs. 32,750 only, while the Vivo V7+ is selling at a price tag of Rs. 21,990. In the budget smartphone segment, the Lenovo K8 32GB is available at Rs. 10,356, the Oppo A71 16GB at a discounted price of Rs. 11,800 while the Moto G5S 32GB for Rs. 13,430 only.
In the tablet segment, the iPad Pro Wi-Fi + Cellular 32GB is available with a discounted price of Rs. 48,304, while the iPad mini 4 Wi-Fi + Cellular 16GB comes at Rs. 35,588.
Laptops and Electronic gadgets such as Cameras, Hard Drives, and Earphones etc. from brands like Lenovo, Canon, Apple, Logitech, SanDisk, and Seagate will also be eligible for cashbacks of up to INR 20,000.
In Appliances, the Sony Bravia 40″ Full HD Smart TV is now selling at Rs 49500 with an additional Rs 7500 Cashback, the Samsung 81.28 cm 32″ HD/HD Ready LED TV now starts at Rs. 18,990 with an additional Rs 1800 Cashback, LG 32" HD SMART LED TV now starts at Rs 28500 only with an additional cashback of Rs 2800 Cashback , Whirlpool 245 L Frost Free Refrigerator Neo DF258 starts at at Rs 22940 with an additional cashback of Rs 3,000 and LG215 L13Single Door Refrigerator starts at Rs 19,001 with an additional cashback of Rs 1900.
Paytm Mall will also offer deals through limited period Flash Sales from 2-6pm and 8pm to midnight every day. These two-hour flash sale slots will offer customers rotating, never-seen-before deals on select products from top brands as per statement of the company.