Western Digital has introduced a new portfolio of advanced iNAND embedded flash drives (EFDs) for smartphone users. The new iNAND 8521 and iNAND 7550 EFDs are claimed to deliver outstanding data performance and high storage capacity. When designed into smartphones and thin, lightweight computing devices, they accelerate the possibilities of a wide range of demanding data-centric applications, including augmented reality (AR), high resolution video capture and rich social media experiences, as well as emerging artificial intelligence (AI) and Internet of Things (IoT) experiences as stated by the company.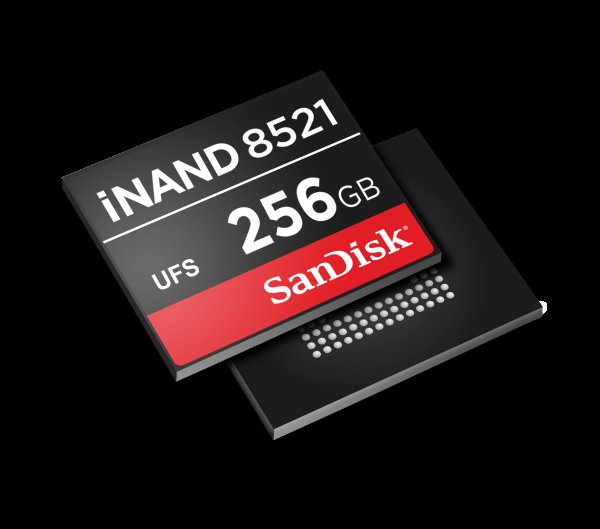 These EFDs are marketed under the SanDisk brandhe. The iNAND 8521 and iNAND 7550 EFDs are the latest additions to the iNAND family, which has been trusted by all major smartphone and tablet manufacturers around the world for over a decade. Western Digital is currently sampling iNAND 8521 and iNAND 7550 storage solutions to OEMs in capacities up to 256GB.
iNAND 8521 EFD Delivers 5G Network-Ready Performance for Flagship Mobile Devices
The iNAND 8521 EFD utilizes the UFS 2.1 interface and Western Digital's new fifth-generation SmartSLC technology to deliver up to double the sequential write speed, and up to 10 times the random write speed compared with the company's previous iNAND mobile solution for flagship smartphones, the iNAND 7232 EFD. Quickly and intelligently responding to users' application performance needs, it enables rapid virtual reality game play and fast downloading of HD movies. The exceptional data transfer speed of the iNAND 8521 EFD also enables mobile users to take advantage of the latest Wi-Fi speeds and network enhancements as service providers transition to 5G.
iNAND 7550 EFD for Nimble, High Capacity Mainstream Smartphones
The iNAND 7550 EFD enables mobile manufacturers to create cost-effective smartphones and computing devices that feature ample storage to meet the needs of increasing consumer content while providing fast and engaging application experiences. Built on the e.MMC 5.1 specification, it is the company's highest performing iNAND EFD based on the widely used e.MMC interfaces to date, and delivers sequential write performance of up 260 MB/s and random read/write performance of 20K IOPS and 15K IOPS respectively. This enables the iNAND 7550 to enhance boot-up and application launch times.