Daimler India Commercial Vehicles (DICV) in association with Hindustan Petroleum Corporation Limited has launched a co – branded loyalty card 'BharatBenz DIESELAABH' for fleet owners. This fleet card is available for the entire range of BharatBenz Trucks.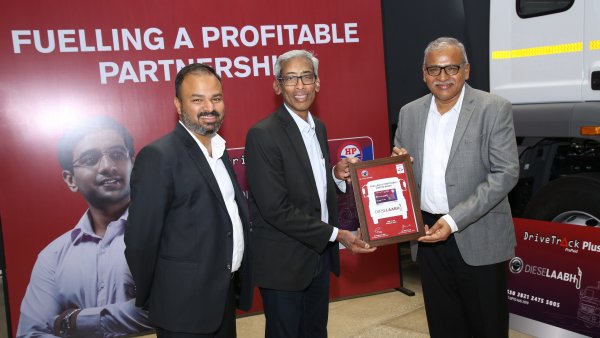 Dieselaabh has been designed to reduce the diesel cost borne by the fleet operators in the form of loyalty program points. By using this card a fleet operator can save upto Rs 50,000 per year per truck. The loyalty points can be easily redeemed at HPCL petrol pumps and through online vouchers .
This co-branded fleet card also offers various rewards for the owners. The entire loyalty points will be shared with respective fleet owner on a month on month basis, based on the slab and usage. Some of the key benefits include:
· Insurance cover to driver & helper upto 3 lakh
· Permanent disability caused due to accident upto 1 lac
· Reimbursement of Medical bills caused due to accident upto Rs 50,000
· Joint driver training program at leading HPCL pumps
· Drivers and helpers also can avail facilities such as secured vehicle parking, access to rest room, bathing, medical facility, Dhabas and washing facility and others at all leading HPCL petrol bunks
This program is an innovative payment mechanism developed for efficient fleet management. The prepaid fleet card offered by HPCL provides an unbeatable combination of control, convenience, security and attractive reward points. Given its wide reach, the new BharatBenz DIESELAABH fuel card will be available to help customers be more profitable and safe as stated by the company.
Speaking at the launch, Mr. Rajaram Krishnamurthy, Vice President, Marketing and Sales, DICV, said: "At BharatBenz, the constant effort is to enhance our customer experience at every step of their journey. The launch of BharatBenz DIESELAABH fleet card is a progress in this direction. As diesel is the highest expense for transporters, this card will help in additional fuel savings and ensure drivers' access to a host of services at all HPCL petrol bunks."