BOULT Audio has launched today its latest range of TWS Earbuds which include Y1 Pro, W50 and W20.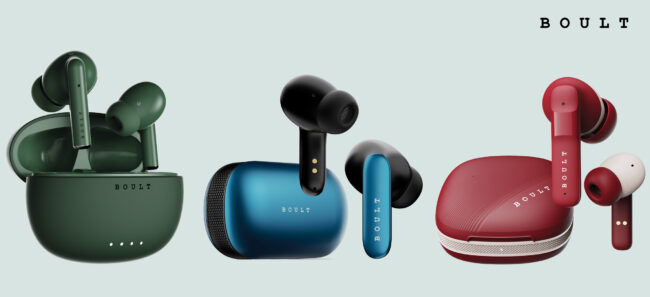 BOULT Y1 Pro earbuds is the successor of its successful Boult Y1 and upgrade speaks for itself. One of its most notable feature is its impressive 60-hour battery life and its Lightning BOULT Fast Charging via USB-C allows you to get 120 minutes of playback time in just 10 minutes. These earbuds boasts an incredibly low 45ms latency for lag-free entertainment. These buds come in a classy metallic finish and intricate grooved panels on the case with colour options of black, red and blue.
These earbuds offer connectivity in a breeze with Bluetooth 5.3 and Blink & Pair technology. This wireless product guarantees crystal-clear calls due to the ZEN Quad Mic ENC technology, which offers noise cancellation for enhanced call quality. The Y1 Pro TWS also delivers exceptional sound quality with 13mm drivers and BoomX Supreme bass. Additionally, these earbuds offer convenience at your fingertips with touch controls, voice assistant support, and IPX5 water resistance. They are also IPX5 water-resistant to withstand splashes and sweat.
The Y1 Pro TWS is priced at INR 1,099.
BOULT W50 offers an impressive 50 hours of playtime and has fast-charging capability via the USB-C port, and a mere 10 minutes of charging results in an impressive 150 minutes of playtime. These earbuds also boast an unparalleled 45ms ultra-low latency in its Combat Gaming Mode, catering to gaming enthusiasts. Its ZEN Quad Mic ENC technology ensures crystal-clear voice quality, making it ideal for calls and gaming alike.
The BOULT BoomX Tech ensures signature sound quality with supreme bass, powered by its 13mm drivers powered by BoomX Technology. Additionally, it supports Bluetooth 5.3 with Blink & Pair technology for lightning-fast pairing and compatibility with SBC AAC codecs. It comes with Touch controls, voice assistant integration, and IPX5 water resistance.
It is available in different colour variants such as Ash Black, Blue Lustre, Silver Sand, and Ruby Bronze. These earbuds are priced at INR 999.
BOULT W20 comes with an astonishing 32 hours of playtime on a single charge and an impressive standby time of 120 hours. The lightning-fast charging capability, powered by Lightning BOULT Type C technology, offers a remarkable 120 minutes of playtime after just 10 minutes of charging. It boasts of an ultra-low 45ms latency ideal for mobile gaming. The 13mm drivers, powered by BoomX Technology, deliver supreme bass and audio quality. These earbuds also feature the innovative ZEN ENC Mic for superior call clarity. Their Blink & Pair Bluetooth 5.3 technology ensures lightning-fast pairing and supports SBC and AAC codecs. Furthermore, these earbuds have features of convenient touch controls and compatibility with voice assistants.
These earbuds come in stylish colour variants like Space Black, Pine Green, and Glacier Blue. The BOULT W20 is priced INR 899.
These products are avaiLT the official BOULT website (www.boultaudio.com) and Amazon.