Using digital cameras and smartphones you can record video footage fairly easily – but did you know that it is just as easy to record it on your PC? Most people don't realize it but there are actually a number of ways to capture video on a PC, and all you need are the right tools for the job.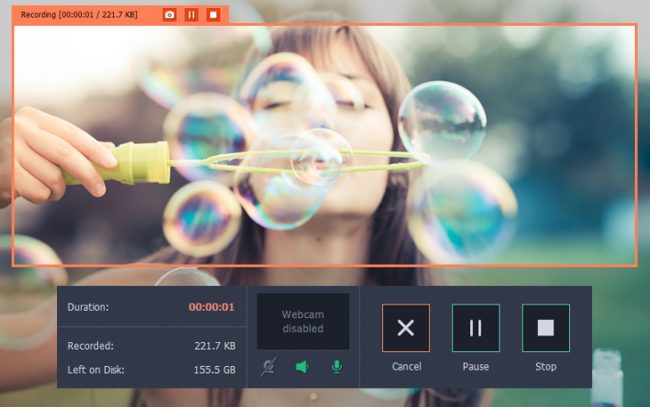 Assuming you'd like to capture video on a PC, Movavi Screen Capture Studio will present you with a unique opportunity to do just that. It will allow you to record the footage that you need through a number of different means and from various sources – without any hassle whatsoever.
If you would like to get started, here are the different ways in which you can capture video on PC using Movavi Screen Capture Studio:
Record video footage from your screen
To start recording your screen all you need to do is select 'Record screen' after you launch Movavi Screen Capture Studio and then define the area that you want to record by drawing a frame, selecting a program window, or choosing a preset. If you want you can also adjust the other recording parameters such as the audio source, sound levels, frame rate and whether to record keystrokes and mouse actions – then start when you're ready.
Capture footage via a webcam, TV tuner, VHS player, or other devices
If you want to capture footage from an external device such as a webcam, TV tuner, or VHS player – just connect it to your PC then launch Movavi Screen Capture Studio and select 'Edit Video' then 'Record Video'. In the window that opens you can select the device under 'Video capture device', and set the other parameters before clicking 'Start Capture' to begin.
Import videos from an AVCHD camera
Assuming you've already recorded the video footage you want on an AVCHD camera, you can import it in Movavi Screen Capture Studio by selecting 'Edit Video' and 'Record Video' (as above). If your AVCHD camera has been connected to your PC it should be detected automatically and you can select then load the videos that you want.
As you can see Movavi Screen Capture Studio affords you several ways in which to record video footage on your PC itself. However that is by no means all that it can do, and it is worth noting that it also has editing tools you can utilize as well.
By using the editor in Movavi Screen Capture Studio you can alter and improve any video footage that you record. Its features will let you adjust the color settings, fix issues involving the footage, trim out unwanted parts from your video, use filters and effects to alter the visual style, include background music, insert text fields, and much more.
In short not only will Movavi Screen Capture Studio let you record the footage you need, but it will also provide you with the tools to transform it into professional-looking and impressive video content. All in all there's very little it can't do, and you should definitely give it a try if you want to record videos on your very own PC.