Detel known for most economical feature phone brand, has announced the launch of four new feature phone models D1 Boom and D4 Prime, D120 and D500. The USP of these phones is that they are equiped with 'Panic button', specially designed keeping in mind the Government of India's stipulation regarding women safety. These are the first phones by  Detel to feature a digital camera.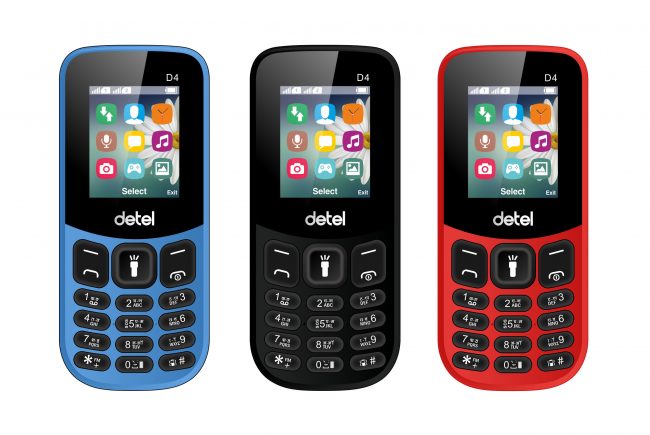 The D1 Boom and D4 prime are priced at Rs.699 and Rs. 599 respectively, both D120 and D500 are priced Rs.649 each. The feature phones are available for purchase exclusively on B2BAdda.com. These phones come in variety of colors.
According to Detel, these  feature phones have the panic button in the form of numeric key 5 to invoke emergency calls. Once a user presses the panic button, five calls will be made to emergency number 112. Following this, five SMSs will be immediately sent to police authorities, and another three to five SMSs will be sent to family members of the user.
For specifications, the D1 Boom boasts of a Big Speaker. All four feature phones come with a Display of 4.5cms (1.8INCH) , Dual SIM, Auto call Recorder, Digital Camera, Video Recorder, Phone Vibrator, Wireless FM, Torch ,Power Saving, FM Recording, Audio/Video Player, Call Blacklist, 16GB Expandable Memory, SOS, 1 year warranty. The D1 Boom and D4 Prime are powered by a 1600 mAh battery and a 650 mAh battery respectively whereas the Detel D120 and D500 are backed by1050 mAh battery each and have Micro SD slots for storage expandable up to 16GB. The new feature phones also offer multi-language support with 23 Languages including English, Hindi, Punjabi, Kannada, Telugu, Bengali and more.
Commenting on the launch, Mr. Yogesh Bhatia, MD, S. G. Corporate Mobility (parent company of Detel), stated, "We envision a world where all women feel safe and secure, anytime, anywhere. Therefore taking a step ahead in this direction and at the same time abiding by the government's guidelines, we are glad to bring to our customers our new feature phones, embedded with a panic button"